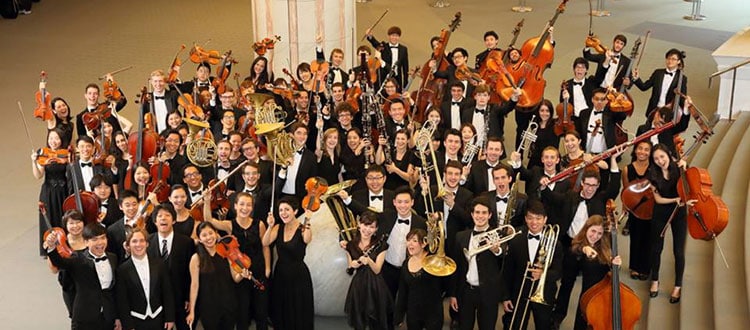 Pacific Music Festival Experience
The Pacific Music Festival (PMF) was founded in 1990 by the legend that is Leonard Bernstein and is held every July in Sapporo, Japan. I had the privilege of attending the Orchestral Academy this summer and it was truly a life-changing experience. Being open to an age range of 18 to 29 internationally, I was thrilled to have been accepted as one of the 78 chosen from a pool of 913 applicants.
The festival focused primarily on orchestral playing, with chamber music coaching and performances as well. Besides intensive orchestral rehearsals, I worked on the Telemann Concerto for 4 Violins and the Bacewicz Violin Quartet. Having only a week to prepare both pieces for three concerts really pushed us to up our game and with coaching from the likes of Daniel Froschauer and Rainer Kuchl, it was a steep learning curve as well as an incredibly rewarding experience. The faculty at PMF is truly outstanding, consisting of players from the Vienna Philharmonic, the Berlin Philharmonic and several distinguished American orchestras including the Metropolitan Opera Orchestra. Working so closely in sectionals and playing in concerts alongside Rainer Kuchl, the concertmaster of the Vienna Philharmonic, was a dream come true. Not to mention meeting Sarah Willis, whose recording of the Brahms Horn Trio was very much an inspiration when I worked on it myself at Wells! Over the course of the month, we learnt and performed a diverse range of repertoire from Shostakovich's 10th Symphony to Bernstein's "On the Waterfront" Suite, performing a number of concerts in Sapporo's Kitara Hall and ended the month with a tour to Yokohama and Tokyo's Suntory Hall. Needless to say, it was an honour to perform under the baton of such eminent conductors including Jun Markl, Andris Poga and Valery Gergiev, who is the festival's current Artistic Director and Principal Conductor.
The highlight of the tour was playing Rachmaninoff's 2nd Piano Concerto with the talented Dmitri Masleev, who was recently chosen as one of the Tchaikovsky Competition 2015 winners. His humility and incredibly sensitive playing won admiration from audiences and performers alike.
However, what truly struck me was the sheer dedication and commitment of the musicians. This was reflected in the improvements in every concert we played, and it was an honour to get to know each and every one of them. It was a truly a summer to remember and I will definitely be reapplying to PMF in the near future!