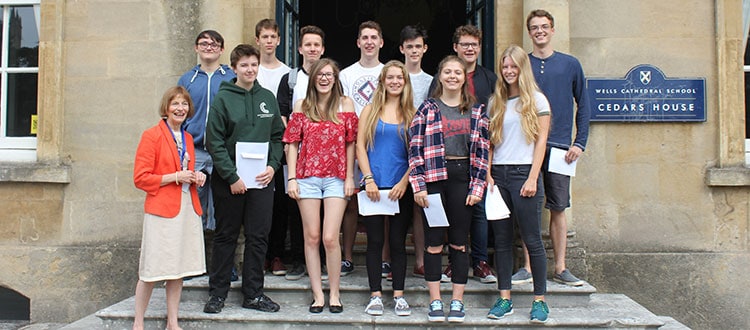 GCSE Exam Results Summer 2016
There is much celebration at Wells Cathedral School this week with students achieving impressive GCSE and IGCSE results following their summer examinations.
One third of all grades awarded to Wells students were the top A* grade, with almost two thirds awarded A* to A grades. Significantly, 89 per cent of all grades achieved by Wells students were A* to B.
Eight students from this year's cohort were awarded a full complement of A* and A grades; and nine achieved seven or more A* grades, including 11 A* grades for Elias, 10 A* grades a-piece for Patrick and Kit, 9 A* grades for both Juliet and Anna, 8 A* grades for Samuel, and 7 A* grades for Samuel, Myrtle and Harry.
Almost a third of Wells pupils were awarded five or more A* grades, including Anastasia, Fergus, Julian, Chloe, Cameron, Jacob, Elizabeth, Julia, Constance, Alexandra and Eleanor.
Wells achieved success across a variety of subjects this year, with particularly good results in history, where almost half the cohort achieved A* grades and nearly three quarters gained A* to A grades, and in photography where 75 per cent achieved an A*.
In both English and English literature, over three fifths of students were awarded A* to A grades; impressive percentages replicated in art, geography, Latin and mathematics; whilst in the sciences, 94 per cent of students achieved the top two grades in physics, 89 per cent the top two grades in chemistry and 81 per cent were awarded A* to A grades in biology. In music 83 per cent gained A* to A grades. And everyone achieved C or above in maths!
Many of this year's cohort are music specialists and achieved extremely good academic results, whilst dedicating considerable time to musical performance and practice. And everyone has juggled academic study with the rest of their education – like Duke of Edinburgh awards, drama, music, art and sporting commitments, and various different kinds of community involvement both inside and outside school.
Principal, Elizabeth Cairncross said, "We're delighted that our students, supported by their families and our staff, have achieved so well in so many different areas – especially because they are gaining these very good results as part of their overall education, and not as its sole outcome. This is just the start!'