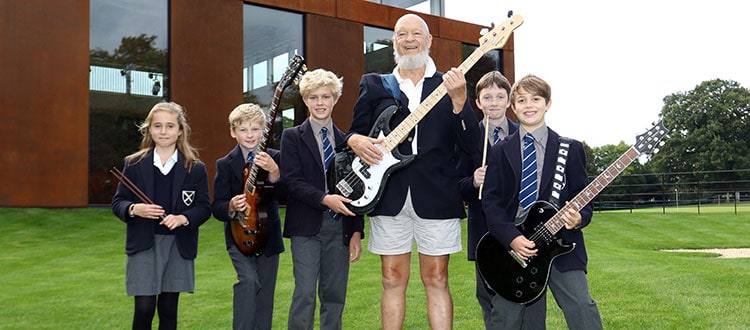 Michael Eavis Officially Opens Cedars Hall
The founder of Glastonbury Festival and Old Wellensian, Michael Eavis, officially opened Somerset's most modern performing arts venue, Cedars Hall this Saturday, surrounded by young members of our newly created Rock and Popular Music department.
Cedars Hall is one of the largest building projects in the centre of historic Wells for the past century, and includes a 350-seat auditorium, recording studio and rehearsal and observation rooms.
The auditorium is named The Eavis Hall in honour of the school's well-known and much-admired former student, who is regarded by the school as their 'First Citizen'.
Mr Eavis said he learned to laugh at Wells Cathedral School and that his time at the school gave him his esoteric view of the world.
"Most people my age who I met had a different slant on everything and Wells broadened my fields of interest and humour. I learned to laugh about lots of things at Wells. That humour and esoteric view of the world has carried me right through my life.
"What we did at Glastonbury was unique and we are still ahead of the game," he said. "Glastonbury was recently voted the second coolest brand in the UK. Some of that is down to Wells and the satire I learned there. The whole family is exceedingly grateful for the school naming this hall after us."
Year 7 pupils Amelia, Oskar, Markus, Daniel and Rhys all enjoyed meeting Michael Eavis and joining him for photos in front of the new Hall.