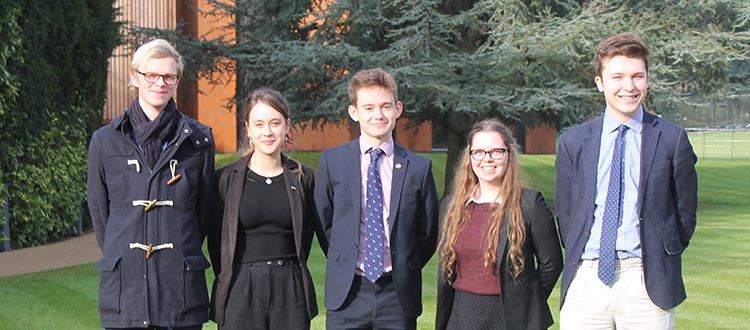 University and Music College Offers
Sixth form students have enjoyed a successful start to the new year, with well over a hundred offers of places at Russell Group universities, including six offers for students to study at Oxford or Cambridge University.
For those hoping to continue with their studies at Cambridge, Emilie has an offer to read Anglo-Saxon, Norse and Celtic at Trinity College; Blandine has an offer to read Natural Sciences, along with an organ scholarship, at Queen's College; Kaia has an offer to read Human, Social and Political Science at St Catharine's College; and Dillon has an offer to read English at Gonville and Caius College.
Orlando and Thomas both have offers to read Engineering at Oriel College and University College Oxford, respectively.
Wells' Head of Careers, Ben Taylor, said: 'The offers to Oxford and Cambridge are the result of genuine interest and dedication by these students over a long period of time. The same can also be said of approximately 80 other students within the school who are holding offers, often to other major universities, where we are sure they will flourish and be happy. The whole year group has been a pleasure to work with.'
For Wells specialist musicians applying to conservatoire there have been a large number of scholarships awarded to students who are looking forward to continuing with their musical studies at some of the most prestigious international music colleges, including The Royal Academy of Music, the Royal College of Music, Trinity College of Music and the Royal Welsh College of Music and Drama.
Of particular mention, with multiple scholarships, are Laura, Edgar, Adam, Osian, Phoebe, Ashby, Gwyneth, James, Zoe and Poppy; whilst Peter has been offered a place to go straight into the second year of the prestigious Guildhall Jazz BMus course.