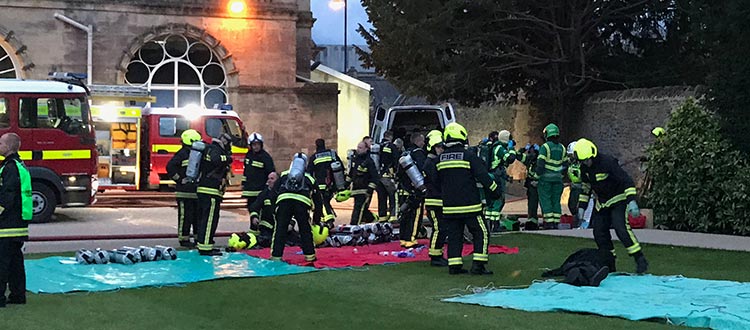 Emergency Services Training Exercise at Wells
On Monday evening, trained officers from the Wells police, ambulance and fire services took part in a pre-planned two hour simulated emergency services exercise along with school staff and students from Cedars.
From 7.00pm, fire engines, police cars and ambulances, along with the command control vehicle for the Wells emergency services started arriving on the school site from across the city, to take part in a simulated fire and rescue exercise in the basement of Cedars House, at the heart of the school campus. The command control vehicle was lined up for the exercise, allowing all three emergency services to coordinate their response to a large scale danger.
Kept a secret from all students and most school staff, the exercise was planned to provide 'real life' practice for the emergency services, as well as to give the school the opportunity to rehearse their fire drills, and health and safety procedures with trained school fire officers.
The exercise was able to provide realistic experience of the safe and controlled evacuation of large numbers of children living in residential property, on a real site, complicated by the idiosyncrasies and complexity of a historic building like Cedars House.
In addition to the fire engines, police cars and ambulances, the fire service used the realistic addition of simulated smoke, and the requirement for the firemen to 'rescue' 20-stone dummies from the basement of Cedars House as part of the operation.
Bursar Peter Knell said, "This pre-planned exercise allowed us the chance to test out systems, work out multiple access for the school site, and build on an already strong relationship with our skilled local emergency teams.
"We are delighted to have been able to test procedures so thoroughly and very grateful to the dedicated men and women of Wells police, ambulance and fire service to have provided such a realistic scenario for us. It is also reassuring that the evening's activities and emergency procedures were managed so smoothly."
Devon and Somerset Fire Services tweeted: "thanks to @wellscathschool for allowing us to train at the school."
As part of the disaster management drill, the school will be following up the practical exercise with a desktop recovery exercise to plan the second stage of actions required were such a serious incident were to take place in real life.