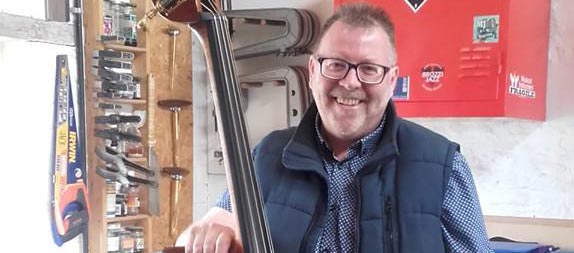 David Heyes is now in his 20th year as Specialist Double Bass tutor at Wells, which he combines with a successful solo performing, composing, teaching and publishing career. Over the past few years he has given recitals and masterclasses in 13 countries, has been a juror at several international double bass competitions, and was recently the 'Featured Composer' at the 2017 Galicia Graves Double Bass Competition in Spain, when 27 of his works were performed. On Friday 21 April David took possession of a new solo double bass made especially for him by master luthier Martin Penning. The instrument is a copy of his Viennese bass and he performed it for the first time two days later at a massed bass concert at the Silk Mill in Frome (Somerset). The instrument will have many performances in Wells and internationally over the coming years and David plans to record his next solo CD on this new instrument.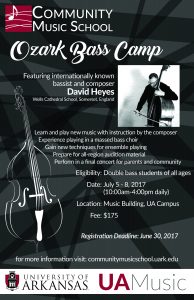 David Heyes has always had both a national and international career and in early July he will be recording a number of solo and ensemble works in Oslo for Prima Facie Records, with further recording sessions in Britain later in the month. A day after returning home he flies to America, as a guest of the University of Arkansas, as their invited soloist, tutor and composer for the Ozark Bass Camp. His many national and international invitations help to strengthen ties between the Wells Double Bass department and bassists throughout the world. In October David directs the Somerset Bass Weekend, with guests Simon Garcia (Spain) and Dritan Gani (Turkey) with a series of concerts and workshops in Taunton, Wells and Templecombe, with Somerset, once again, resounding to the sound of massed basses playing music from around the world. In 2018 David has invitations to teach and play in Denmark, Italy and Turkey, with the possibility of invitations to America and Spain not yet confirmed. He has written a wealth of music for the double bass over the past few years and his most recent commission is to write 'Seven Last Words from the Cross' for unaccompanied double bass for Easter 2018. The 21 minute piece will feature seven movements, each lasting around three minutes, and will be his largest and most impressive commission to date. The premiere will be in Somerset, and he has been invited to play it at many different concerts throughout 2018.
Click here to find out about the Somerset Bass Weekend – October 2017.