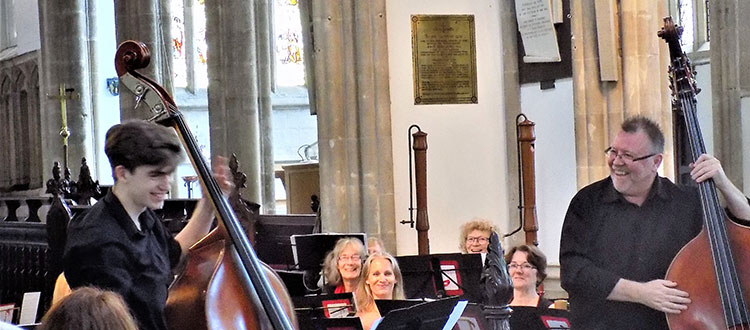 The life of a musician is always varied and interesting with rarely two weeks ever the same. On Sunday 18 June David Heyes was the guest soloist of the Exeter Recorder Orchestra at a concert in St Cuthbert's Church. David confirms that in a 34 year career as a professional musician this was a first for him and maybe even a world first! He was the soloist in Steve Marshall's Concertino No.6, taking the part of the Contrabass Recorder but now played on double bass, accompanied by a massed recorder orchestra and conducted by Andrew Collis. The composer was present and was wonderfully effusive and complimentary about the new sound world created and also confirmed that he suddenly had ideas about writing something for double bass.
David invited Wells specialist bassist Alex to join him in the second half of the concert performing duets from Macedonia and Georgia. Sneg Udaril (Snow Falling) is a wonderfully vibrant and lively Macedonian folk song, arranged for double basses by David Heyes, and the idea of 'snow falling' on one of the hottest days of the year raised a few laughs. David performed his own work Alfabia (Mallorcan Memories No.1) for unaccompanied double bass which he premiered in Spain in February, and was joined by Alex for a lively and exciting performance of Spicy by Georgian composer-bassist, Giorgi Makhoshvili.
On a beautifully hot Father's Day, Wells reverberated to the soothing strains of massed recorders, performing works from the Renaissance to the present day, interspersed with colourful and evocative folk rhythms and melodies by two Wells bassists.
David also had five works performed in New Jersey on the same day and flies to Oslo at the end of June to record a CD with three bassists from the Oslo Philharmonic Orchestra. With one day at home he then flies to America as featured composer and guest soloist at the Ozark Bass Camp held at the University of Arkansas. No two weeks are ever the same and all the Wells bassists constantly prove this point.