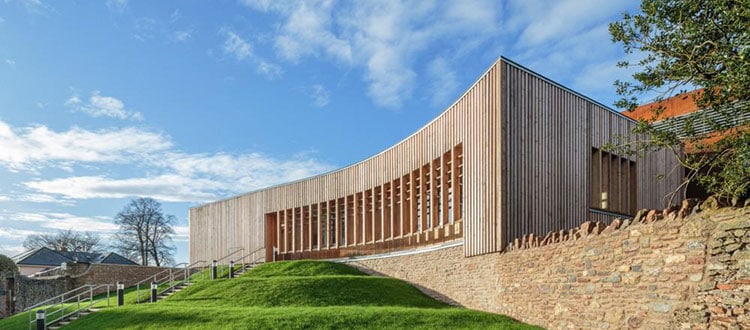 RIBA South West Building of the Year Award 2017
Cedars Hall, the state of the art performing arts centre, situated in the grounds of Wells Cathedral School, was presented with a South West RIBA award, as well as the prestigious RIBA South West Building of the Year Award 2017 for the South West & Wessex region, at the RIBA South West Architecture Awards held in Bristol on Tuesday night.
Cedars Hall, designed by London-based architects Eric Parry, and constructed by Shaylor Group, opened last October. With a 350-seat auditorium – the Eavis Hall – named after one of the school's most celebrated old boys, Glastonbury Festival founder Michael Eavis, fully-equipped music practice rooms, a cutting edge technical suite and 'floating' percussion room, Cedars Hall provides fabulous top class facilities day to day for performance and practice for the school's talented specialist musicians.
Nestled amongst hundred year old trees, with vistas across the school's showcase cricket pitch and the arresting Grade II* listed Georgian Cedars House, with the towers of Wells Cathedral shimmering in the background, Cedars Hall is idyllically situated at the very heart of the school and wider Wells community.
This year it is playing host to some of the top acts of this year's Wells Comedy Festival; it has been filled with young audiences captivated by maths and science lectures from Simon Singh and Steve Mould; and has attracted a wide and exciting range of international artists, from Clare Teal and the Swing Machine Jazz Orchestra, to classical cellist Leonid Gorokhov, guitar phenomenon Mike Dawes, and Somerset legends The Wurzels. Most recently, comedian Vikki Stone presented her debut orchestral work alongside the Wells Cathedral School Chamber Orchestra.
And it has enabled the school's many ensembles and orchestras as well as individual performers. 'The Crucible' had major impact in it and the senior school house singing competition used it to capacity.
The winners, from the 19-strong list were announced by Michael Holmes, Content Director for Centaur Media, TV presenter and chair of the National Custom and Self-build Association.
RIBA South West Regional Director Jon Watkins said, "RIBA Awards always bring out the best in local and national architects across our vast region, and this year's shortlist offered quality, diversity of type and scale, excellence in design, and lots of delight."
Principal of Wells Cathedral School, Elizabeth Cairncross, added, "We loved the design from the beginning, and now we love the building. Every day it shows us what it can do for us and the way it enhances all our music and all our learning. We're delighted for the whole design and construction team that it has been acknowledged like this – and very proud of them all!"
Cedars Hall will now go through to the National RIBA Awards, taking place in London later this year.