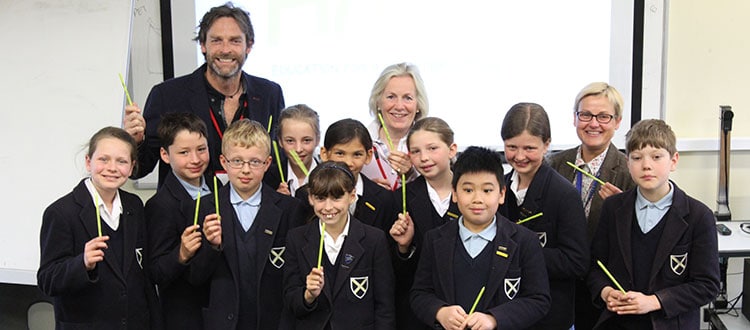 Students in Years 6 to 9 took part in the first national Share a Pencil Day last Wednesday under the leadership of Jules Desmarchelier-Arpino. The aim of the day, organised by the charity, HOPE, was to raise awareness of the lack of access to education for 124 million children around the world, as a result of due to conflict and war, poverty, health, family circumstances and lack of resources.
Students in Years 7 to 9 were introduced to the issue through an assembly, reminding them of the Global goals agreed by 193 world leaders in 2015 and more specifically to goal four concerning the equality of chances in terms of education for all children. Year 6 enjoyed a similar assembly last Friday and were treated to a visit by special guests Mr Evan Lewis, Founder of HOPE, and Councillor Tessa Munt.
Following Wednesday's assembly students in Years 6 to 9 received a one hour lesson encouraging them to think about the four main reasons why children cannot attend school and to remind them of how lucky and privileged we are here at Wells. Students had to complete the task of sharing a pencil to raise awareness of the difficulties of learning when you do not have access to the most basic of equipment.
The day was organised both in support of HOPE and Wells' own Sierra Leone Project, with all students encouraged to donate £1 to buy a special pencil made by HOPE from recycled CD cases. The aim was to raise at least £300 from the sale of the pencils – pencils are still available for those who did not manage to buy one on the day (from JS council and from Jules Desmarchelier)
There was a great buzz at lunchtime amongst both students who had taken part and teachers who had been asked to deliver the lesson.
Jules said, "I was delighted to see so many of our children really wanting to support other children in the world by donating money, but mostly, I was really touched to see how positively they all reacted to the lesson and how engaged they were, how surprised they were to find out why some children cannot attend school – a great lesson in humility!".
Jules Desmarchelier, manager of the Sierra Leone project, is particularly happy, as the money raised will go towards buying equipment for the JT Reffell school in Freetown, as well as providing at least one scholarship for a student to attend the Ballanta Music Academy for one year!
Thank you to all of you for taking part!