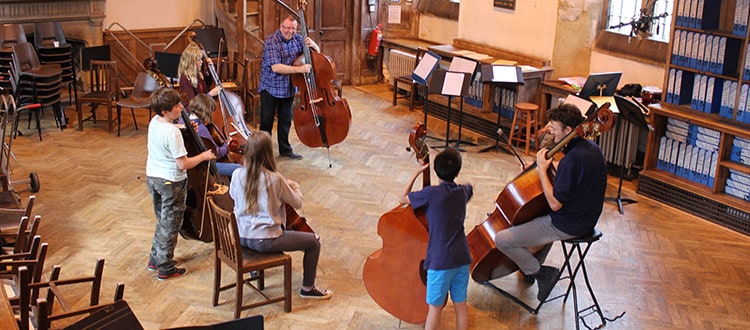 Wells bassists have been busy throughout July and August with a variety of concerts and summer schools.
David Heyes, now in his 21st year as specialist double bass teacher, recorded a new CD in Oslo and Somerset in July, which is being edited and will be released towards the end of 2017.
In August David was the double bass tutor at the Wells String Summer School, enjoyed solo concerts throughout the summer and composed a number of new works for solo double bass for friends around the world – Karel Cieśluk in Oslo, Dritan Gani in Ankara and Elsen Price in Sydney. David has a number of significant commissions to fulfil for bassists and choirs and a CD devoted to his own works will be released by Prima Facie Records towards the end of the year.
Later this month David is a guest of Big Noise Raploch, the El Sistema inspired music project, and the Scottish Bass Trust with concerts and workshops in Stirling, Perth, Edinburgh and Glasgow. He is preparing for the Somerset Bass Weekend in October, which will feature some of the Wells bassists in concerts and workshops in Sherborne, Wells and Templecombe and welcomes international guests Dritan Gani and Simón García for a great weekend devoted to the double bass
Alex H was a guest bassist with the Oxford County Youth Orchestra and gave a number of concerts in Prague and also attended the Bass Club Summer School at the Menuhin School.
Jan was Principal Bass of the National Children's Orchestra with concerts around the country.
Alex W and Miles both attended the Wells String Summer School.
Darcie, who is a 1st study trumpeter, won a full scholarship to attend the National Symphony Orchestra's summer music institute in Washington D.C in the States.
Overall, it has been a busy and productive summer for the Wells bassists, but there was also time to relax and bass-out and everyone has returned to school revitalised and enthusiastic for another year of great bass playing.
This term we welcome Miles, Tom and Eloine as new Specialists and already the bass department is buzzing with energy and ideas. There are many great things planned for the bassists and 2017/18 looks like being the best year ever at Wells.