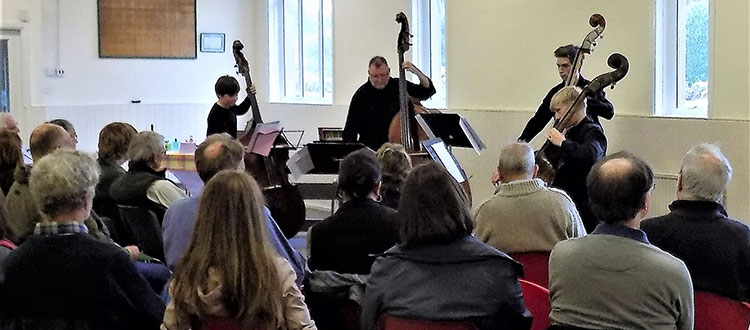 Four Basses and a Soprano!
Three bassists from Wells joined David Heyes and his wife, soprano Sarah Poole, for a charity concert in Templecombe in early September. The local church roof in the village is in need of a new roof, at a staggering cost of £200,000, and the concert was part of the fund raising initiative by the local community. Alex, Jan and Miles performed a fascinating one-hour programme for a large and appreciative audience. Music from the early 16th-century, alongside premieres and works by living composers, created a wonderful programme which showcased not only the great music being written for the double bass today but also the technical and musical skills of the Wells bassists.
Works by Wells-based Steve Wragg, Bernard Salles, Michael Montgomery and P Kellach Waddle were premiered alongside trios and quartets by Tony Osborne, David Heyes and Teppo Hauta-aho, in an international programme which featured works from six countries. Alex H performed the Prelude from Hans Fryba's Suite in the Olden Style with virtuosic panache and great style, and Miles played Caballero by John Merle contrasted by the jazzy pizzicato slow movement from Teppo Hauta-aho's Jazz Sonatine No.2, which had a great 'vibe'.
Two works by David Heyes were performed – The Last Poppy, for double bass trio; and The Great Wall of China, for double bass quartet – which the students have played many times in Wells. The concert was relaxed and informal, the second time the bassists had played in Templecombe this year, and was a perfect showcase to demonstrate the wonderfully gifted members of the double bass department at Wells. An eclectic and varied programme was tackled by the bassists with great energy and enthusiasm, they all spoke to members of the audience afterwards, and were wonderful musical ambassadors for the school.