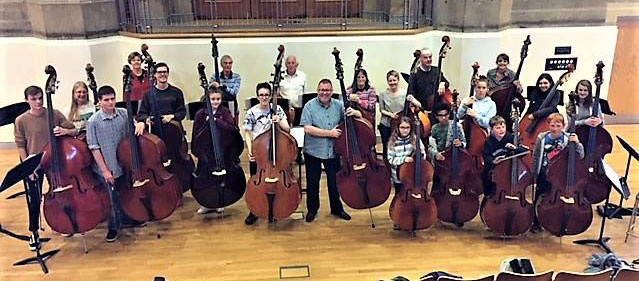 David Heyes was a guest of Big Noise Raploch and the Scottish Bass Trust from 28th September to 1st October, directing workshops for bassists of all ages and abilities in Stirling, Glasgow, Perth and Edinburgh.
Big Noise is the Scottish version of El Sistema in Venezuela which creates musical opportunities in less affluent cities and towns, with four centres in Scotland.
Portuguese bassist Ricardo Tapadinhas and specialist bass tutor for Big Noise Raploch wrote, "We had the privilege to have had a awesome Masterclass with David at Big Noise Raploch. The kids were really excited for David's unique approach to the Double Bass. It was all about fun with such a noble instrument. Thank you very much!"
The other workshops in Glasgow, Perth and Edinburgh were organised by the Scottish Bass Trust. David worked with a wide range of bassists in technique sessions and masterclasses, alongside music for massed basses and he was able to introduce many of his own compositions and transcriptions throughout each workshop. He enthused about Wells to many of the local teachers and students, about our unique Specialist Music School within a school, and about the opportunities in the double bass department.
David has been invited to direct a massed bass concert in Edinburgh in 2018, hopefully attracting upwards for 40 bassists, with an invitation for some of the Wells bassists to take part. This would be a perfect opportunity to take the Wells ethos and message further afield and to create strong links between bass departments across the country.
In October David will have more than 30 of his works performed in Britain, America and Australia and his first work to be played in Brazil will be on 13th December. His new CD No Man's Land will be released towards the end of this year and in April 2018 Prima Facie Records have asked him to record a CD of British works for double bass.
HOT OFF THE PRESS!!!! Congratulations to Alex H who has been offered a place in the National Youth Orchestra of Great Britain.