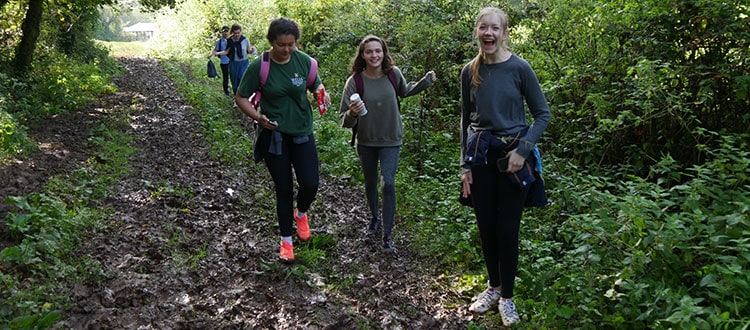 Over 350 walkers from the school community took to the Mendip Hills to experience the glorious views from the top of Bristol Hill and Ebbor Gorge, as part of the annual Save the Children Walk on Sunday. The sun shone throughout the day and the mud only added to the fun, as far as the students were concerned! Comprising two walks, a shorter 5 mile walk for younger pupils and a longer 10 mile walk for senior school students, this community fundraising event, organised by head of boarding Martin Ashton, involved half of the pupils in the senior school, along with numerous walkers and families from the junior school. Our youngest walker was Lucia in Year 2 and the daring Year 5 trio of Daniel, Reuben and Harrison were the youngest to brave the 10 mile route – well done to them. First back was Fergus in Year 13, ably challenged by Shrewsbury houseparent Stuart Elks! The two Year 13 Sams and Year 13 duo Connie and Josie all walked the ten mile route 3-legged and were proud to announce at the end, 'we're still friends'! Navigational nouse proved as challenging as ever – Priddy Village welcomed a group of unexpected guests for lunch and a large group of students in Years 10 and 11 returned after a six hour (almost) marathon and announced, "We got lost. In fact we must have walked about 20 miles, in which case we'll raise even more money". That's the spirit! Many thanks to all involved on the day, a team of dedicated helpers and all the walkers.
Hard copy sponsor forms are available on both junior and senior school reception desks or via this link.
The deadline for sponsor money return is on Friday 10th November, the first week back after half term. All money raised goes directly to Save the Children who are working all over the world to support children caught in indescribably tough situations – supporting victims of the Mexican earthquake, Hurricane Irma, the East Africa food crisis, the Sierra Leone mudslide, to name a few… Do look at the
Save the Children website
for more information about the cause.