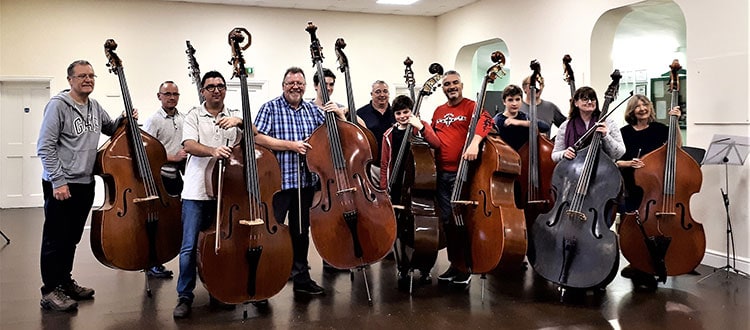 Somerset Bass Weekend Success
The Somerset Bass Weekend, directed by David Heyes, was held in Templecombe and Wells in October. A series of one-day workshops and five concerts attracted bassists of all ages from across the south-west and the concerts featured 39 works, including five world premieres and one UK premiere.
The guest tutors Dritan Gani (Albania/Turkey) and Simon Garcia (Spain) added a touch of international bass glamour to the proceedings, both as soloists and teachers, and Simon as Featured Composer. The great camaraderie between everyone, alongside good humour and laughter, produced a memorable weekend that will be remembered for a long time to come.
Three Wells bassists were important figures during the weekend. Alex performed as a soloist and also worked with David, Dritan and Simon to create a unique double bass quartet featuring Mali-malist by Simon Garcia. Jan was a key player in the massed bass ensembles also performing Overture Deserto in a solo quartet with Alex, Dritan and Simon, the composer of the piece. Miles took part in the massed bass ensembles, played in the Sunday master class, and was featured as a composer in three of the concerts. His piece for unaccompanied double bass Night Whispers was performed by David Heyes.
The Somerset Bass Weekend was a huge success and the Wells bassists added to the success greatly. Their positive and 'can-do' approach was welcomed by everyone and their performances, whether as soloists or ensemble performers, were exemplary.