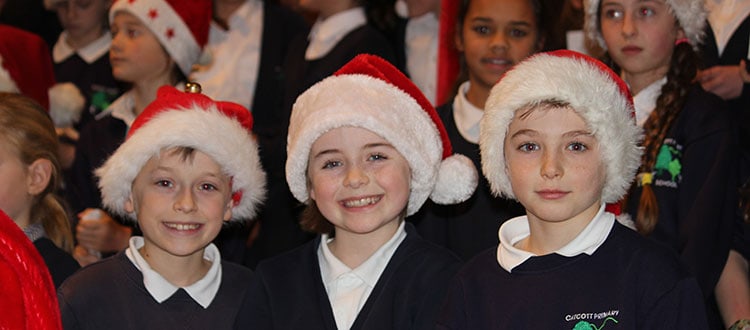 Primary Schools Christmas Concerts
20 Somerset schools were treated to the combined professional skills of Pete Letanka, composer and animateur, and Wells Director of Music, Mark Stringer, for this year's primary schools Christmas Concerts.
The concerts took place over two nights in Wells Cathedral and involved 250 children from the different schools, each night. The participating schools are sent music for the concerts in advance, so that individual music teachers are able to rehearse in the months running up to Advent. Pete Letanka's new jazz composition, Let Christmas Reign, was particularly popular as it evoked wintry scenes and a festive wonderland. The Wells brass quintet's arrangement of Silent Night also proved a hit.
Schools enjoyed an afternoon's rehearsal and a trip to the cinema to see Paddington Two, prior to the evening concerts. As is customary, the audience joined in enthusiastically with all the singing and the actions of the Twelve Days of Christmas – a fabulous start to the festive season for many families.