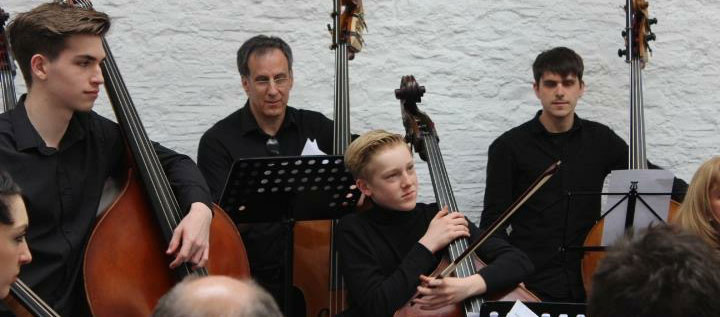 Publishing success for young Wells composer
15 year old double bass specialist Jan is now a published composer. His short work Syrinx for unaccompanied double bass was released by Recital Music on 15th February as the first piece in Syrinx Book 1 which includes music from six composers in four countries. UK double bass publishing house Recital Music has the largest catalogue of double bass music in the world and publish music by many of the leading composers writing for the double bass today. The Syrinx Project commemorates the centenary of the death of the French composer Claude Debussy (1862-1918) and brings together 28 composers from 11 countries, each writing a piece for unaccompanied double bass which is influenced by Debussy or his iconic work Syrinx, originally for solo flute.

Jan's piece was premiered at St. Mary's School in Shaftesbury by David Heyes on Thursday 25th January with subsequent performances planned in Britain and Australia. David describes Jan's work as "exceptional, inventive and assured…receiving an amazingly positive and warm reception from the large audience."

Jan writes: "I composed Syrinx thinking the melody line to be a kind of song, with each verse dying away and then coming back again. I aimed to create a building of tension to the Con moto, the peak, and then slowly back, to the quiet and mysterious voice of the beginning." It was composed during a family skiing holiday and was completed on 30 December 2017, the first work in the project to be submitted, and is one of a growing number of works by this talented and increasingly prolific young composer.