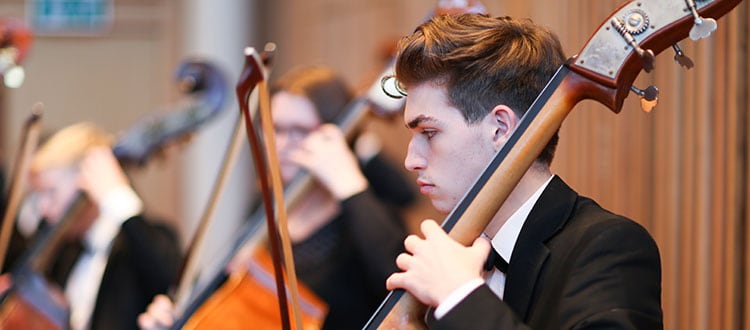 Taunton Young Musician of the Year
Very many congratulations to Year 12 double bassist, Alexander, who was crowned Taunton Young Musician of the Year 2018 at this year's prestigious Taunton Festival of the Arts, which took place over the first May bank holiday weekend.

Alex, who performed the Fryba Suite im Alten Still "Allemande" and Vanhal Double Bass Concerto no.1, first movt., was given glowing praise for his performance by adjudicator and renowned cello soloist Lesley Shrigley Jones, who said that Alex gave "A fascinating display of a musical fusion between technical and musical attributes."

Alex won a significant financial prize and the opportunity to perform at one of the Taunton Sinfonietta Concerts later this year, as well as the chance to represent the Rotary Club of Taunton at future music competitions. He will use his winnings to help fund an essential c-extension for his bass.

Other Wells finalists included Year 12 violinist Cristina, who was awarded joint second place; Year 12 cellist Rebecca, who was awarded third place; and Year 12 pianist Nina, who won the piano prize. All winners were awarded financial prizes.