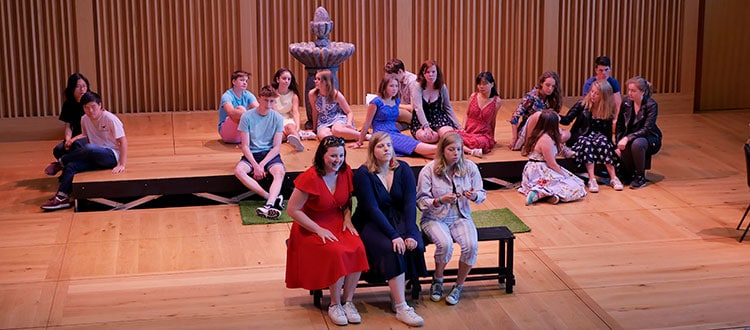 Dido and Aeneas – Wells' First Opera
The school's first ever opera took place on Sunday evening in Cedars Hall – an extraordinarily charming and moving production that stunned the sell-out audience.
Dido and Aeneas, Purcell's great opera of love, betrayal and loss, was transposed to a contemporary setting at the end of a school term as an international crowd of students fell in and out of love and got ready to leave school.
The professionalism of the musicians was matched by the impressive acting talents and stunning vocal performance of the singers. Many thanks to Nic Rauh, Harry Guthrie and Chris Finch, and their supporters, who pulled such an inspiring performance together so beautifully in a short space of time.
Principal, Elizabeth Cairncross, said, "There weren't many dry eyes, and it was entirely true to Purcell and his music. The first opera in Cedars Hall!"