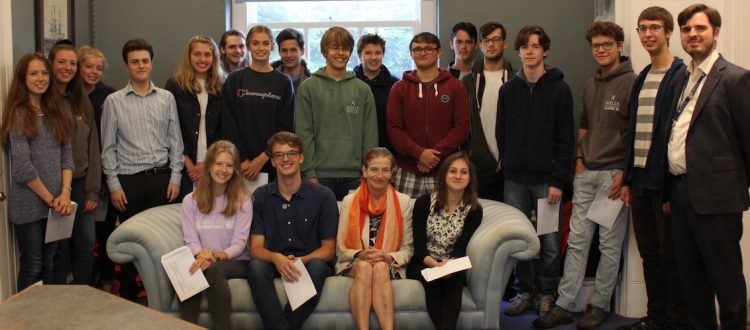 Robust A-level Performance at Wells Cathedral School
Students at Wells Cathedral School achieved a robust set of A-level results on Thursday with a pass rate of 99 per cent; 40 per cent were awarded the top two grades, compared with a national average figure of 26 per cent.
20 per cent of pupils achieved three or more A or A* grades or better, with four students gaining more than three A* grades: congratulations to Samuel B who gained four A* grades, as well as to Julian and Elias who gained three A*s and one A grade a-piece, and to Samuel S who gained three A*s and two B grades.
Samuel S will go on to study mathematics at Warwick. Elias will study the groundbreaking new Arts and Sciences course at University College, London, and pianist Julian has the opportunity to continue with his musical studies at university or at the Royal Academy of Music or the Royal College of Music where he holds scholarships.
Samuel B will study medicine at Imperial College, London, where he has been awarded the prestigious President's Award scholarship, and will continue with his violin studies at the Royal College of Music.  Sam will be joined by two other Wells students studying medicine in London: Constance who will be at King's College, and Kit, who will be at University College.
The two Wells students who needed them have gained the grades required to continue with their academic studies at Oxford: Harry will be reading English at New College; whilst Marianne will be reading music at St Anne's College.
Other pupils are going on to study a wide range of interesting and exciting subjects: from history of art to mechanical engineering, geology to PPE. Over 50 per cent of this Wells cohort specialised in music during their sixth form years, and have successfully juggled academic work with intensive music programmes and long hours of practice. Many hold multiple scholarships from internationally renowned music colleges in the UK and abroad, with several choosing to progress their musicianship at world famous institutions such as the Juilliard School in New York, and the Manhattan School of Music.
Wells' results have been good across a wide variety of subjects this year, with exceptional results in geography, where 43 per cent achieved A*s and photography, where 63 per cent achieved A*s. In contrast to the national downward trend of students no longer having access to courses in modern foreign languages, 75 per cent of Wells students taking French and German gained the top grades, whilst in both mathematics and religious studies, 50 per cent gained A* or A grades.
Principal, Elizabeth Cairncross said, 'As the whole national school sector is recognising that exam grades are only part of the result of a good education, I am delighted that, as I leave, I know that so many of our students are moving to exciting 'fresh woods and pastures new' with the right grades, and, even more importantly, with curiosity, tenacity, reflectiveness, kindness and courage. The variety of their next areas of study is remarkable and a tribute to them, their innovation and energy, and the support of their families. It is also a tribute to all the staff who have worked with them, taught them, looked after them and helped them in so many ways. I know that Alastair Tighe is pleased to be building on this foundation.'