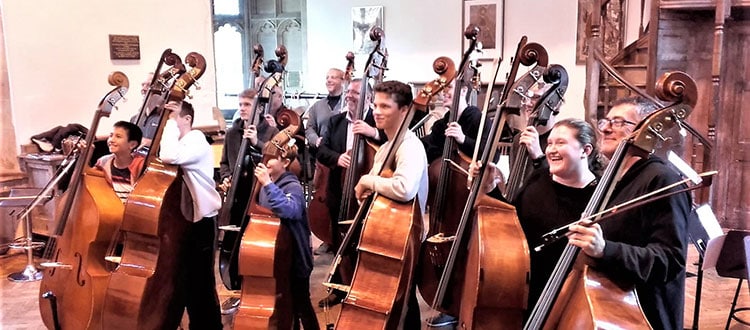 Double Bass Weekend & Masterclass
The 2018 Wells Double Bass Weekend was held in Quilter Hall across the weekend of 22nd-23rd September. Directed by David Heyes, with guest tutors, Gabriele Ragghianti from Italy, Emma Sullivan from Australia, and May Halyburton from Scotland, an action-packed two days featured technique sessions, masterclasses, massed bass orchestra, talks by master-luthier Martin Penning, May Halyburton (Bessy the Bass for youngsters) and Markus Lawrenson from D'Addario Strings, individual lessons, new repertoire and many performance opportunities.

Bassists of all ages and abilities worked together to create an amazing two-day workshop which celebrated the double bass. Both days concluded with an informal concert which featured several UK and world premieres. Music from the 16th-century to the present day featured many of the Wells double bassists in solos and ensembles.

The two winning entries in the Competition for Young Composers were premiered by Emma Sullivan, both full of great energy and invention, and worthy winners – one composer is a student at the school the other studies at the RCM Junior Department.

The final concert, lasting almost 90 minutes, was a mammoth double bass celebration and included performances from all the tutors, joined for two pieces by 17 year-old Alex. It showcased the amazing bassists at Wells and how far the instrument has travelled over the past 30 years in music from the 15th-century.

The final Double Bass Masterclass of 2018 was held in Quilter Hall on Monday 24 September and was directed by Gabriele Ragghianti from the Institute of Musical Studies "Luigi Boccherini" in Lucca. Five specialist bassists took part and the day was filled with laughter and good humour as each bassist was put through their paces. This is Professor Ragghianti's second visit to the school and he was so impressed with the bassists and their willingness to try new ways of playing and interpretation that he has already expressed a desire to come back next year.