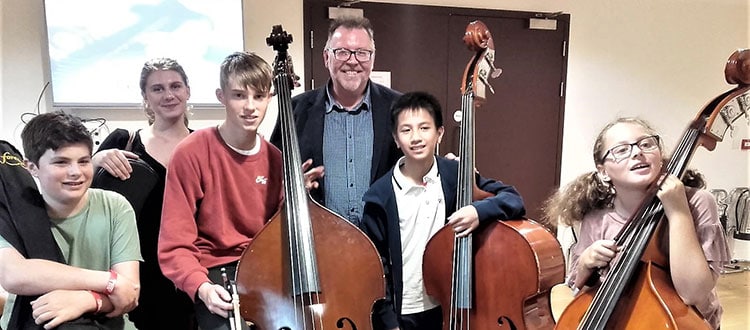 The second Wells String Summer School was a great success attracting young string players from 14 countries. Directed by violinist Catherine Lord and tutored by members of the string teaching staff, a full programme of musical events and leisure activities kept everyone busy from breakfast until well past dinner. Four young bassists took part, ranging in age from 11 to 16 years, and were tutored by David Heyes.

Daily technique sessions focused on different aspects of playing, notably bow placement, tone and projection, alongside scale studies and harmonics. The bassists were joined by one cellist for ensembles and the group, who called themselves 'Steel Bangles' for the concert, studied five works including 'Au Clair de la Lune' played entirely in harmonics. The ensemble coaching was lively, fun and loud, with the occasional chocolate break and, on the last day an ice cream break in Wells market square – despite the rain.

The final concert, a mammoth event lasting around two hours, featured nine ensembles, one choir item, music played by both orchestras, culminating in a vibrant and exciting suite from 'The Pirates of the Caribbean'. The bass ensemble were excellent and played with an amazing degree of control and authority. 'The Carousel' and 'The Great Wall of China', both composed by David Heyes for the junior bass quartet, emphasised the many facets and possibilities of the double bass, not only arco and pizzicato, but also col legno, sul ponticello, percussion and Bartok pizz. were added to the mix. The bassists, superbly led by Morgan, were calm and in control and played with confidence and enjoyment – the applause and extra bow said it all.