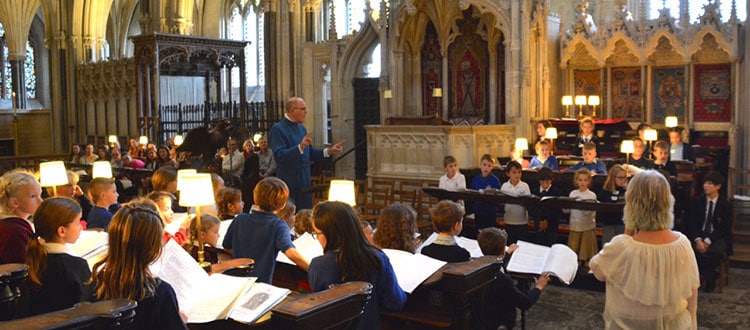 Experiencing chorister life!
On Saturday 13th October, Wells Cathedral hosted a behind the scenes day, where children were able to experience the life of a Cathedral chorister.
Thirty seven girls and boys, aged between seven and nine, came from schools across Somerset and beyond for the annual Be a Chorister for a Day event where they met the Cathedral choristers and participated in singing workshops. The day culminated in singing Choral Evensong in the Quire of the Cathedral with the award-winning and world-renowned choir. The children performed the Anthem The Lord is my shepherd by Howard Goodall, helped the Choir lead the two hymns in the service, and learnt to process in and out.
There were also events for the children's parents, including a tour of Wells Cathedral School and Tea in the historic Vicars' Hall.
If you are interested in the 2019 event, please contact the Cathedral Music Office via
[email protected]
. If you can't wait that long you may like to join Wells Cathedral Song Squad, for children aged 7-11, or Wells Cathedral Song Squad Minis, for children aged 5-6, which meet on Tuesday nights. Contact Tricia Rees-Jones via
[email protected]
for more details.