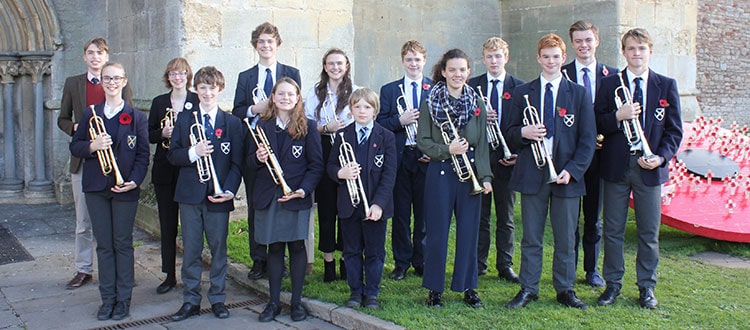 15 trumpeters from Wells Cathedral School, were honoured to take part in 22 Armistice Day and Remembrance Services across the region, and as far afield as Alderney, to commemorate the fallen, on this particularly poignant centenary of the 1918 Armistice.

Wells musicians, specialist, special provision and general, aged from 10 to 18, played The Last Post and Reveille at moving Armistice Day and Remembrance Day Services in churches, cathedrals, concert halls and primary schools in and around Somerset over the Remembrance weekend.

The sound of a lone bugler playing The Last Post has become one of the most distinctive sounds in the world. Eerie and evocative, it exists beyond the barriers of nation, religion, race and class, charged with the memory of generations of the fallen.

Wells Head of Student Performance, Paul Denegri, himself a trumpeter, who played at memorial services at Henton, Wookey and at the Armistice Day Assembly at Milford Infant School in Yeovil over the weekend, said,

"It is an honour and a privilege for these musicians to play at memorial services in their local communities. The Last Post is a difficult and emotive piece of music, and must be performed with the utmost respect. We are very proud that so many in the community have asked for Wells pupils to contribute to such significant services on such an important day."


Over the last 30 years, trumpeters from Wells Cathedral School have supported Remembrance Day services across the city and south west region, with moving performances of The Last Post and Reveille a culmination of a community's respect. This year, record 22 performances of this significant and emotive piece of music were played once again by young Wells musicians.


Many thanks to the following pupils: Charlie, Livia, Harry, Erin, Miranda, Hector, James, Joshua, Luke, Jesse, Charlie, Thomas, Eliza, Matthew, Danni.


They were joined by Old Wellensian Alicia, returning from Bristol University, as well as Paul Denegri, Wells Head of Student Performance.