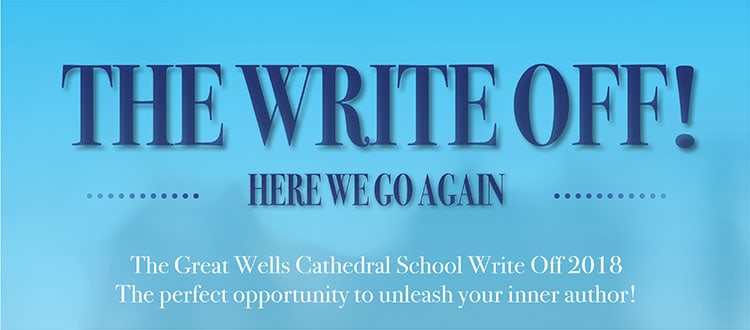 The Write Off 2018 Winners and runners up
'The Great Wells Cathedral School Write Off 2018' attracted a record number of entries this year, making the panel's decision extremely difficult. What was particularly encouraging, and indeed a reflection of the incredible talent of pupils at Wells, was the wide range of genres attempted. Creative writing enthusiasts at Wells really epitomise the school's motto, 'esto quod es'. It takes amazing courage and discipline, confidence and independence, to commit your ideas to paper and allow yourself to be 'judged'. So we would like to commend, very sincerely, all those who were brave enough to submit something for the competition.
After much consideration, however, the prizes have been awarded as follows:
Lower School
1st Place: Ted (Year 7) – A Fight Within
2nd Place: Camilla (Year 7) – A Heart with Wings
3rd Place: Sophie (Year 8) – Bonfire Night
Upper School
1st Place: Rose (Year 11) – untitled
2nd Place: Isabelle (Year 10) – The Start of the End
3rd Place: Alexei (Year 9) – The Crossing
Poetry
1st Place: Helena (Year 10) – A Mother's Love
2nd Place: Bissy (Year 9) – Sunshine
3rd Place: Danni (Year 12) – Drums and Distant Laughter
Brief synopsis of the entries:
For Lower School, in first place, Ted for his brilliantly unexpected tale 'A Fight Within' about a soldier who comes to terms with his PTSD.
In second place, Camilla's 'A Heart with Wings' , a brilliantly intertextual story, set in Damascus, of young boy, Hamed, and the disappearance of his mother.
In third place, Sophie for her powerful and beautifully descriptive reflections on watching fireworks in 'Bonfire Night'.
For Upper School, in first place, Rose for her, as yet untitled, fantasy about the 'almost boy' and 'not-quite girl' outmanoeuvring the monster in the library.
In second place, Isabelle's chilling re-imagining of the end of the Romanov dynasty in Russia: 'The start of the End'.
And, finally, Alexei's 'The Crossing' recounting one boy's fate as he attempts to cross an icy river.