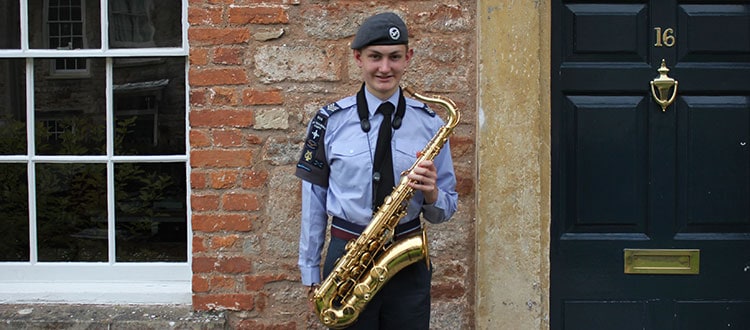 National Marching Band of the RAF Air Cadets
Congratulations to Year 10 pupil Toby, a Wells CCF Corporal and an outstanding trombonist and saxophonist, who has been selected for the prestigious National Marching Band of the RAF Air Cadets.
Music camps for the National Marching Band are sponsored by the RAFAC and are held annually at RAF College Cranwell in Lincolnshire. The camps help train cadets in the RAFAC Music Service and specifically cadets in the national marching band.
Toby's first course took place over the Easter holidays, where he spent a week with the other musicians in the Band training and practising, before a finale performance at on the Parade Ground at RAF Cranwell on the final day.
Toby will perform for the Marching Band at Welbeck Graduation Parade on 6th July, and is also hoping to fit in the opportunity to play for the Concert Band of the RAF Air Cadets over the summer.
This weekend he also took part in a 50 mile overnight hike with the Devon and Somerset Air Cadets, from RAF Cosford.