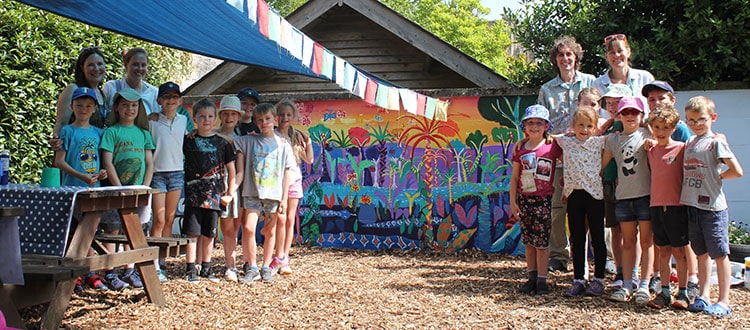 On Friday Wells Junior School pupils enjoyed a joyous creative afternoon painting a giant vibrant nature-focused mural in the gardens of Number 8.

The art project ties in with the Last Chance to Paint initiative launched by Wells parent, Cornish painter and Eden Project's artist in residence, John Dyer, as a way of educating children about the effects of climate change by forming a real connection to the natural world.

Throughout the Trinity Term, pupils in Year 3 have worked on a range of different cross-curricular activities, inspired by John's project. The pupils have followed John and his daughter, Old Wellensian Martha-Lily, on their adventures in the Amazon Rainforest and there was even a Wells Cathedral Junior School shout out on one of the live video blogs.

As part of the project, John spent time with the Yawanawá tribe in the Amazon, filming and producing artwork in order to post free videos for schools around the world. Wells Year 3 teacher Kately Kinnersley and her class watched the videos and submitted questions to Dyer about his travels and tribal life via the live blog.

On John's return, Kate persuaded him to come and work collaboratively with the pupils, choosing to paint a wall mural as the perfect backdrop for an exciting new learning area at the School. The mural started out as a jungle sunset, evolving with symbolic healing butterflies as the pupils were encouraged to follow their own ideas and connect with the theme.

Kateley said, "The project has already had a huge influence at Wells – we're planting hedges where there were once fences, we've planted a meadow behind the science room. There's now an eco-garden outside my classroom, made from eco-bricks and sustainable materials, with bee-friendly areas and hedgehog homes incorporated. In art lessons pupils have created tribal masks, and now we have this vibrant mural.

"It's all been inspired by the Last Chance to Paint project: we're showing the children that small changes make a big impact." she added.