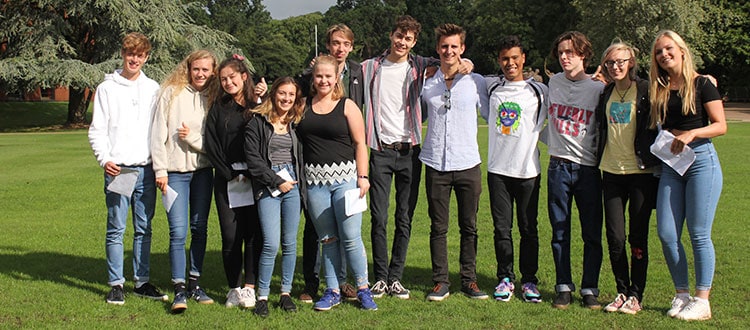 Wells Cathedral School Pupils Celebrate A Level Success
Upper Sixth pupils at Wells Cathedral School have received another strong set of A level results; 99 per cent of pupils passed, and over a third of entries were awarded the top two grades, well above the national average figure of 25 per cent. 
Wells' results have been strong across a wide variety of subjects this year, with exceptional results in Mathematics, where 50 per cent of the cohort achieved A* or A grades, despite a downward trend in grades for this subject nationally. In Biology and Physics, almost a third of Wells pupils gained the two top grades, whilst 38 per cent gained A and A* grades in Chemistry. One third gained the top grades in Geology. 
In the Arts, two-thirds of the Spanish cohort achieved the very top grade; whilst 40 per cent of those who studied French gained an A*. In English well over two-thirds of the cohort achieved grades A*-B; whilst in Music, over half of pupils gained A or A* grades. Over 80 per cent of Photography candidates achieved an A or A* grade, whilst 40 per cent of students taking History of Art achieved the top two grades.
Nearly ten per cent of Wells pupils achieved three or more A or A* grades or better, with seven pupils gaining more than two A* grades: congratulations to Maxim,  Rebecca, Gerard, Susanna, Madeleine, Samuel and Catherine.
Maxim will go on to study Aerospace Engineering at the University of Bristol; Rebecca and Gerard will continue with their 'cello studies at the Royal Academy of Music, where they both hold significant scholarships; Susanna will go on to study English at Trinity College, Cambridge University; Madeleine will continue with her vocal studies at the Royal College of Music where she also has a financial scholarship; Catherine will study Neuroscience & French at the University of Manchester; and Samuel will go on to study Medicine at Gonville & Caius College, Cambridge University. Fellow pupil Lily also has a place to study Medicine on the University of Nottingham's Lincoln Pathway; whilst specialist pianist Bruce will study Music at Magdalene College Cambridge. 
With over 200 offers of places for Wells pupils at prestigious Russell Group Universities this year, others are going on to study a wide range of interesting and exciting subjects, from Architecture to History of Art, Geology to Economics, across the country. Many of this Wells cohort specialised in Music during their Sixth Form years, and have successfully juggled academic work with intensive music programmes and long hours of practice. Many hold multiple scholarships from internationally renowned music colleges in the UK and abroad, with several choosing to progress their musicianship at world famous institutions such as the Juilliard School, the Manhattan School of Music, Berklee College of Music, the Peabody Institute and the Conservatorium van Amsterdam. 
Head Master, Alastair Tighe, said, "I am delighted that so many of our pupils have done so well, and it is pleasing to see the year group heading off to pursue such diverse courses at various institutions. They have been great ambassadors for their School and we wish them all the very best for the future."