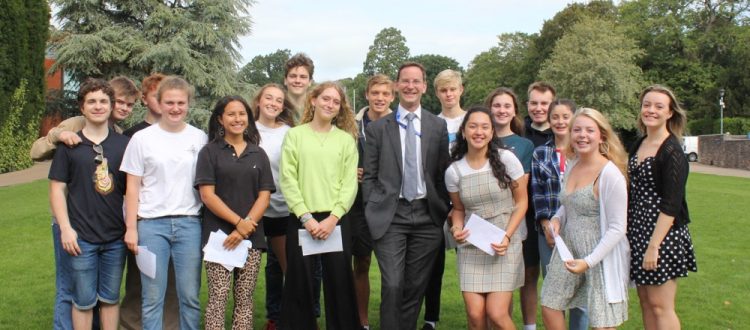 Wells Cathedral School Enjoy Excellent GCSE Exam Results Summer 2019
Pupils at Wells Cathedral School celebrated excellent GCSE results on Thursday, with the vast majority of subjects assessed against the reformed, more rigorous, GCSE examination grades. Almost half the grades awarded were the top 9-7 grades; very impressively, 17 per cent of pupils achieved a Grade 9 or A* (against a national average of 4.5 per cent) and 29 per cent of grades were awarded at Grade 8 or 9. The School achieved a 99 per cent pass rate.
Just under one fifth of pupils achieved at least six or more of the two top grades, a notable improvement on last year; whilst 13 pupils achieved five or more 9s or A* grades, including Harry, Elaina, François, Amber, Hector, Katie, Oscar, Max, Rose, June, Amelia, Lily and Jeroan.  
Wells performed very well across a wide variety of subjects this year, with particular success in the three Sciences, with 50 per cent achieving grade 9, and 100 per cent gaining 7-9, in Chemistry; 91 per cent gaining 7-9 in Physics; and 75 per cent gaining 7-9 in Biology.
Bucking the national trend in modern languages, one third of the cohort gained the very top grade in French and in German. English Literature results achieved a similarly high success rate.
Of the pupils who studied Latin, three quarters gained the top two grades; whilst half gained 8-9 in Classical Civilisation. In the creative arts, Music and Photography pupils also achieved the same excellent percentage of top grades.   
Over a quarter of this year's cohort have specialised in music whilst juggling their studies, with many achieving very good academic results, whilst dedicating considerable time to musical performance and practice. Other pupils have only been in the UK for a short time and have achieved significant results after only one year of study. Many pupils have juggled academic work with other commitments in dance, drama, outdoor education such as the Duke of Edinburgh Award and the Combined Cadet Force, or in sporting arenas, both inside and outside school.    
Head Master Alastair Tighe, said, "These excellent results are, of course, the culmination of hard work by teachers and, most importantly, by pupils. All our pupils are to be congratulated on their achievement, and it is wonderful to be able to share in their success."