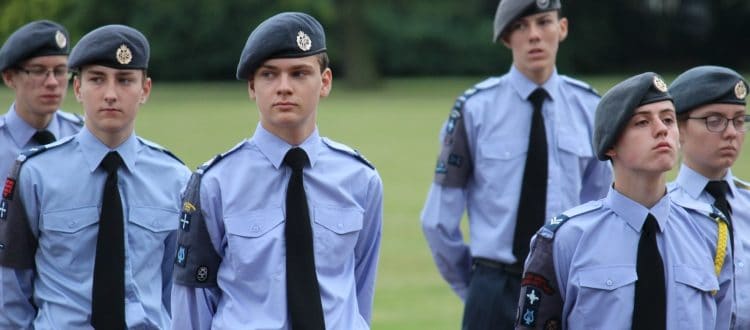 Gold Air Cadet Leadership Graduation
Congratulations to Lower Sixth pupil, Sgt Harry Chantrey of the Wells RAF contingent, who graduated from RAF College Cranwell's prestigious Gold Air Cadet Leadership Course over the summer following an inspection by Air Vice-Marshal Harvey Smyth and a passing out parade on the famous College Hall parade square. 

Harry graduated as part of the winning Flight of ten cadets, following a challenging and rewarding week of physical and leadership training at the College. The 18-hour days in searing heat were tough, rigorous and action-packed, and included timed runs, long hikes, leadership lectures and command tasks in the field, two nights camping in the open away from base, drill, interviews and exacting inspections. 

Harry was one of only two cadets selected from Somerset, with the 60-strong cohort made up of experienced CCF and ATC cadets from across the UK. 

Air Commodore Dawn McCafferty, Commandant of the Air Cadets, visited the cadets in the field to observe some of the Flights' command tasks and was impressed with their commitment and skills.

Particular thanks to Flt Lt Wray from Shrewsbury School and Wg Cdr Montgomery from Robert Gordon School for their continuous support and advice to the Foxtrot Flight throughout the week.

Many thanks to Glyn Lancey, Stuart Elks and Ken Padgett who put Harry forward for selection for the course and provided indispensable advice and kit beforehand.