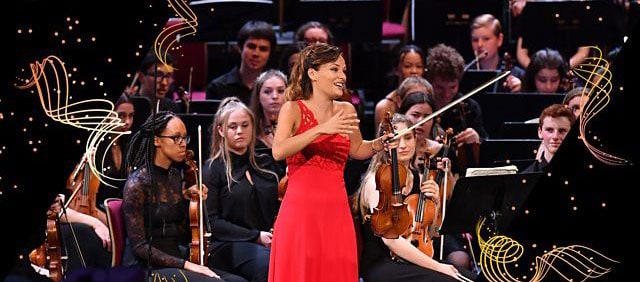 National Youth Orchestra at the BBC Proms
Many of our musicians performed in a BBC Prom at the Royal Albert Hall in August as members of the National Youth Orchestra (NYO). The concert was conducted by Mark Wigglesworth, and Nicola Benedetti was the soloist in a performance of Tchaikovsky's Violin Concerto. The concert also included a London premiere of Lera Auerbach's work Icarus and excerpts from Prokofiev's Romeo and Juliet, known to many as the theme tune to The Apprentice. The Prom was televised and can still be viewed on BBC iplayer with lots of shots of Wells pupils.

Congratulations to all those involved who were: 
Strings: Nellie Whittam (L6th), Isabelle Nettle (Year 11), Summer Brooks (L6th), Carys Barnes (left 2019), Tom Nettle (U6th), Alexander Heather (left 2019)
Woodwind: Ella Leonard (U6th)
Brass: Hannah Williams (U6th), Meggie Murphy (left 2019), Eliza Talman (U6th)
Percussion: Meadow Brooks (left 2019)
Meggie Murphy (left 2019) additionally performed in a Proms Encore programme as part of the NYO trombone section.