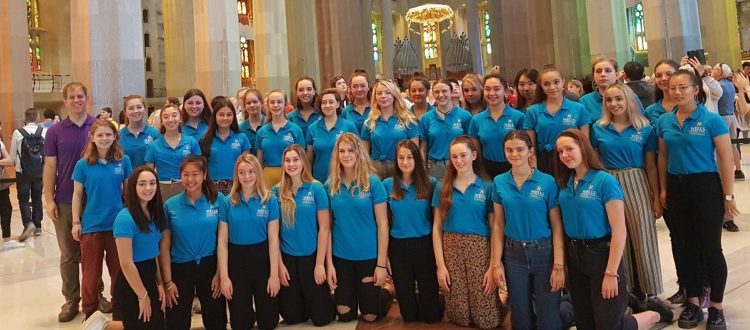 Choralia Reach the Let the Peoples Sing Finals
Congratulations to Choralia, the Wells Cathedral School Upper Voice Girls' Choir of 30 vocalists, who reached the Grand Finals of the prestigious European Let the Peoples Sing Competition, held in Barcelona over the weekend. 

Let the Peoples Sing is organised biennially by the European Broadcasting Union and is the choral equivalent of European Young Musician. Each national broadcaster is asked to nominate choirs, and it was the BBC who entered Choralia to represent the UK, on the back of the Choir's success in Rome last year. 

Choralia's Musical Director, Christopher Finch, submitted a recording for the Semi-Final, which was judged and chosen for the Grand Final by an international panel of seven adjudicators. 

Three choirs competed in each of the three sub-categories within the Final: the Children and Youth category, the Adult category and the Open category. Wells' Choralia competed against youth choirs: Cor de Noies de l'Orfeó Catalá and overall winner, the Ponomaryov VESNA Children's Choir. 

Both the Saturday Gala Concert and the Sunday Grand Final were held at the stunning Palau de la Musica in central Barcelona. Built between 1905 and 1908 by the modernist architect Lluís Domènech i Montaner, the stunning building is located in Sant Pere district, one of the most beautiful areas of Barcelona, and is considered to be an architectural jewel of Catalan Art Nouveau, the only concert venue in this style to be listed as a World Heritage Site by UNESCO. 

In addition to the girls' vocal performances and a packed rehearsal schedule, the group also took the opportunity to visit Gaudi's dramatic Basílica de la Sagrada Família, the Museu Picasso, the beautiful Parc de la Ciutadella, the winding iconic Las Ramblas shopping streets, as well as enjoying some Spanish sunshine on the famous Barcelona beach.  

The Grand Final was broadcast by the majority of European national classical music broadcasters on radio, and also across some of the American and Asian broadcast channels. The Final was televised in Spain and streamed live on the internet internationally.

Founded in 2012, Wells Cathedral School Choralia is described by Naxos as 'one of Europe's leading upper voice choirs' and the choir's 2015 album, The Song of the Stars, was released on that label with producer, Mark Brown. 

Choralia won the Grand 1st Prize at the 9th Musica Eterna Roma International Choir Festival and Competition held at the Basilica dei Santi XII Apostoli in the heart of Rome in 2018; has reached the Category Finals of BBC Radio 3's Choir of the Year competition; and performed at Sage Gateshead, LSO St Luke's, Milton Court, St George's Bristol, Cathedrale Notre Dame de Paris, the Philharmonie Luxembourg and Wells Cathedral.