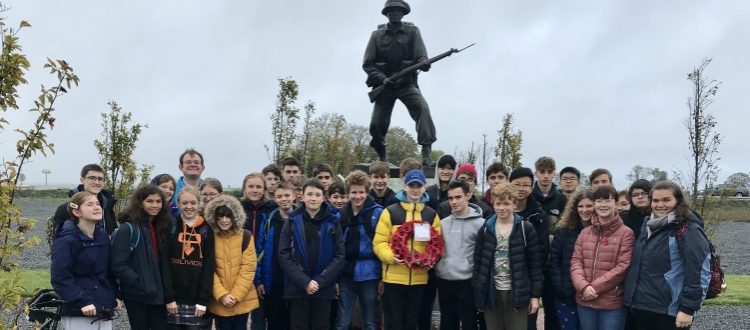 World War II Battlefields Trip to Normandy
A mixed group of pupils from Years 9, 10 and 11 spent four days over the half term break experiencing an action-packed tour of World War II battlefields, cemeteries, museums and the Normandy Beaches with experienced and enthusiastic guides Chris Eldridge, Sam Broderick, Glyn Lancey and Lucy Tout. 

From Wednesday 30th October to Saturday 2nd November, the group's itinerary followed the routes and graves of Old Wellensians and relatives of people associated with the trip.

Pupils visited four of the Normandy beaches: Sword, Gold, Juno and Omaha; battlefields at Villers-Bocage, Hill 112, the target of Operation Jupiter, and Bourguebus Ridge near Caen, where the Operation Goodwood offensive took place. 

They also spent time at the Pegasus Bridge Memorial Museum, the Overlord Museum near Omaha Beach, and the D-Day Museum at Arromanches. They visited numerous cemeteries, including the grave of Old Wellensian Leslie Dowell.