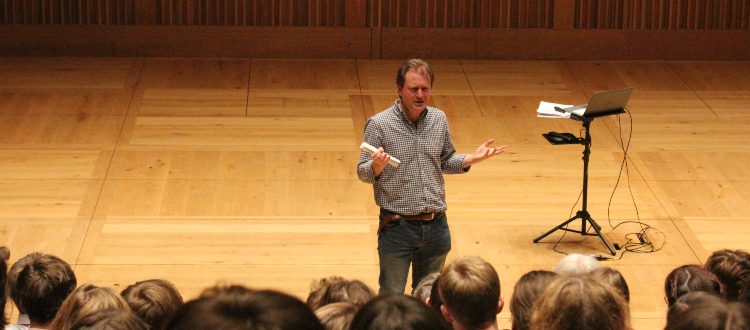 Wells Hosts Amnesty International Conference
On Thursday, Wells Cathedral School hosted
Stand Up!
A Schools Human Rights Conference, run by Amnesty International for senior pupils at schools and colleges across the UK.


Just under 150 pupils and teachers from across Somerset, Bristol and Dorset gathered at Wells for the first ever Amnesty Human Rights Conference held at the School to hear about current Human Rights issues and take part in workshops and direct action.


Head Master Alastair Tighe and Amnesty's South West Speaker, Tom Wilson, welcomed the delegates, followed by the initial Keynote Speech by Peter Radford a Dorset-based Amnesty Speaker and ex-teacher who challenged delegates to realise the power they each have to defend the human rights of others in everyday situations as well as to raise awareness and engage others in challenging injustice.


The conference was delighted to hear from Richard Ratcliffe, the husband of British-Iranian, Nazanin Zaghari-Ratcliffe currently detained by authorities in Iran. Richard shared the trauma of the past three and a half years for their family and the joy at recently being reunited with Nazanin's daughter Gabriella.


The young delegates then broke off into workshops, led by experts in their fields, to discuss topics such as Modern Slavery, Climate Change, Women's Rights, LGBTQ Rights and the Refugee Crisis.


The conference closed with a session led by Amnesty South West Speaker Coordinator Tom Wilson giving students the practical tools and strategies to take what they had heard, go back to their schools and make a difference.


One of the Wells delegates, said,
"What an inspiring day with Amnesty International. The speakers gave a fantastic insight into a range of human rights issues, and it was particularly moving to hear the plight of Nazanin Zaghari-Ratcliffe, directly from her husband. We finish the conference motivated to challenge and fight against injustice and unfairness wherever possible!
"


Amnesty International UK works to protect people wherever justice, freedom, truth and dignity are denied. As a global movement of over 7 million people, Amnesty International is the world's largest grassroots human rights organisation. It investigates and exposes abuses, educates and mobilises the public and helps transform societies to create a safer and more just world. Amnesty International has received the Nobel Peace Prize for its life-saving work.