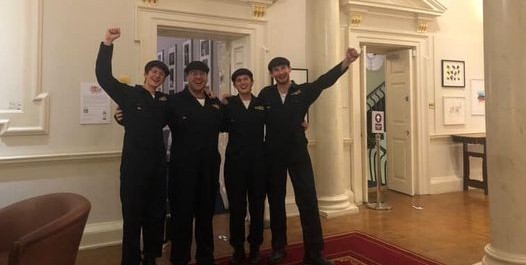 Slide Action Double Ensemble Win
Congratulations to two Old Wellensian trombonists, Benny Vernon and Jamie Tweed, whose trombone quartet, Slide Action, has recently won both the Philip Jones Brass Chamber Music Prize for an Outstanding Brass Ensemble and the £10,000 Royal Overseas League Mixed Ensemble Prize in the prestigious ROSL's 68
th
annual chamber music competition, held at Princess Alexandra Hall.


Slide Action is a very successful trombone quartet, formed in 2018, whose members met as students at the Royal Academy of Music in London. The group comprises Huw Evans (alto and tenor), Benny Vernon (alto and tenor), Jamie Tweed (tenor) and Josh Cirtina (bass). 


The members of Slide Action are all professional freelance trombonists working with orchestras, bands and shows all across the United Kingdom and Europe. Josh Cirtina is also Principal Bass Trombone of the Royal Philharmonic Orchestra. Collectively, the members have worked with the Royal Philharmonic, Royal Opera House, Covent Garden, London Philharmonic, London Symphony, Academy of St.Martin-in-the-Fields, Aurora, BBC Philharmonic, Hallé, City of Birmingham Symphony, and Welsh National Opera Orchestras. Furthermore, they have also worked in West End shows such as Fiddler on the Roof and Phantom of the Opera and appeared on numerous TV and radio broadcasts.


In 2019, Slide Action also won the International Trombone Festival Trombone Quartet Competition at Ball State University, Indiana. They are fast becoming one of the most successful global trombone quartets.


Benny and Jamie concluded their time as brass specialists at Wells in 2014, and 2015 respectively before continuing with their musical studies at the Royal Academy of Music.