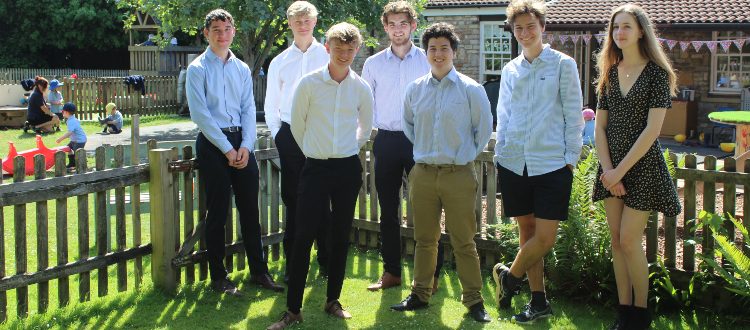 15 Years: A Lifetime at Wells!
Four members of this year's Upper Sixth have been making the most of their final few weeks at School, as their 15 years apiece as Wells pupils comes to an end.


Humphrey Boot, Harry Chantrey, Jack Denegri and Hector Gummer all joined Wells as toddlers in the Nursery, when it was run with military precision by the inimitable Ronni Clarke. Having progressed through subsequent years in the Pre-Prep, the Junior and Senior Schools and now the Sixth Form, they are all now preparing for life after Wells, with plans for University and Gap years.


Following A level assessments in May, the boys have returned to School for an activity-packed final four weeks of term, enjoying trips to some of the South West beaches, days out in Bath, Sports Dinners, Sixth Form Ball, and even a water fight on Tor Fields amongst a huge range of scheduled options that have been put on for the Upper Sixth.


The boys were joined outside the Nursery playground by other Upper Sixth leavers, Oscar Duddy, Lottie Gordon and William Rowley, who also spent time with them in Wells Nursery, moving to other schools before returning to Wells at a later date.


They said, "
Wells has changed in a lot of ways over the last 15 years, with loads of extra facilities, different staff and new friends, but at its heart it has the same fun, warmth and family atmosphere that existed when we were tiny. It's been a great place to grow up and we're making the most of these final few weeks!"