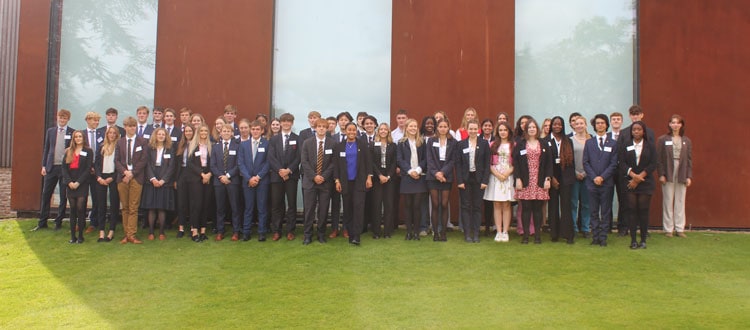 Heads of Schools Conference 2021
Fifty pupils from schools across the South West took part in our annual Heads of School Conference event – our largest turnout since we started this venture back in 2018!
The demanding and exciting programme got off to a fast start with a couple of energisers before the pupils engaged in aspects of their role that they will have to contend with in the year ahead, including being visible, managing meetings, safeguarding responsibilities and aspects of leadership.
The energy from the pupils was clearly apparent from their engagement in the topics. This was channelled into two practical skill-based workshops aimed at developing their public speaking skills, and understanding of how to ensure teams work effectively by solving practical tasks and the use of the Belbin Team profile model.
The lunchtime break was used by everyone to network, and it was very gratifying to see young leaders, who had only met each other briefly, engaged in forging new relationships with their fellow heads of school.
The afternoon provided opportunities for the pupils to work in groups and to come up with realistic solutions to practical Head of School scenarios and case studies. Nik Harwood, CEO of Young Somerset, was this year's guest speaker and he succeeded in both making an impact and also reiterating the conference's main themes. In addition to sharing his own success story, he set out the need for authentic leadership and the value of taking an inclusive approach to ensure a team is productive. The day ended with a Q&A session, supported by two previous head girls, where the pupils were able to explore the major challenges to taking up a school leadership position.
Feedback from the day was extremely positive, with all pupils advocating the value of the conference, and recommending a return next year, with one pupil remarking that "every part of today has been so useful, I am really glad I came", and another "I feel much more confident now about how to succeed in my new role."
The event was clearly a success and continues to be of immense value to those who attend. With an increase in the number of schools supporting the event for the first time this year, the plan for next year is to double the numbers and reach 100 attendees! If you or your school wishes to join our mailing list for this event, please email
[email protected]