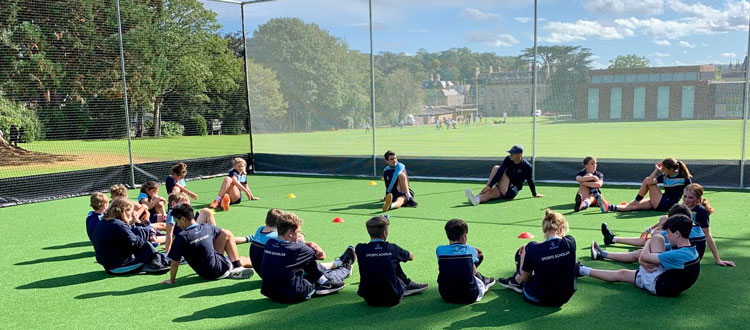 Wells Cathedral School is delighted to announce the opening of its latest, brand-new sporting facility – a new MUGA (Multi Use Games Area).
Sited at the top of Cedars Field, the MUGA is a 33m x 15m fully enclosed all-weather sports facility. It offers four cricket lanes for bowling and batting practice, alongside a further 15m x 15m open area that can be used for multiple sports activities, including:
skills practice for all main sports such as hockey, netball and football
PE activities such as boxercise and fencing
other general fitness training.
The MUGA is for all ages, and will be used by the whole school.
The facility has been installed by Total-Play Ltd contractor, who specialise in designing and installing surfaces for sports facilities. They worked closely with the School to create a bespoke design that would offer the school the most flexibility and enhance the all year round sports.
Director of Sport Tom Webley comments:
"The MUGA will allow our pupils to develop their skills on a top quality surface, enabling us to train all year round. The "Multi Use" element ensures that all sports will benefit, and we can also use it for Core PE and fitness lessons. The opportunities are endless, and I'm confident all pupils across the school will benefit.On behalf of all of our pupils, I'd like to say a huge thank you to everyone who has donated or helped to raise the funds to make this happen!"
The funds for the MUGA have been raised as part of the Annual Fund: Sport which has been generously supported by the Parents' Association, the Wellensian Association and an anonymous donor.