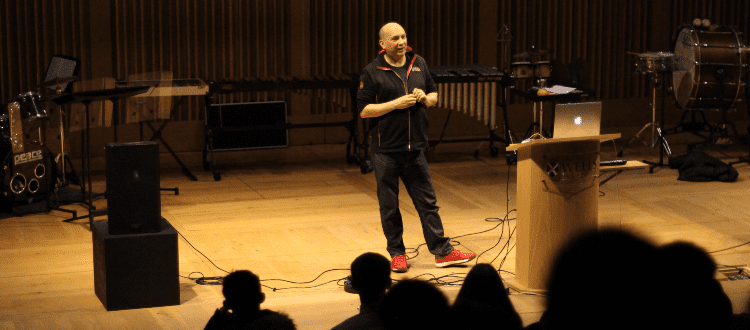 Richard Jacques Revisits Wells
On Monday 28th February, pupils were treated to a visit from Old Wellensian and internationally renowned composer Richard Jacques.
Richard, a BAFTA and Ivor Novello-nominated composer, spent the afternoon conducting one-to-one sessions and giving talks to our A level tech pupils and music specialists. Pupils found out about Richard's career, from his first job offer at SEGA through to his recent work on Marvel's Guardians of the Galaxy video game. They were able to take part in a Q&A to gain valuable insights and advice. Richard, who admitted he is not the world's greatest singer, encouraged pupils to get involved with any musical opportunities they're offered, citing his involvement with his university choir, which gave him the knowledge and skills he needed to score part of Marvel's Guardians of the Galaxy video game. He also stressed the importance of working hard, continually learning, practising, networking and enjoying every opportunity.
Richard will be leading our Composing for Media Summer School which he has described as a "bootcamp of composing for screen" from Sunday 24th to Saturday 30th July. For more information and to book your place, click
here
.