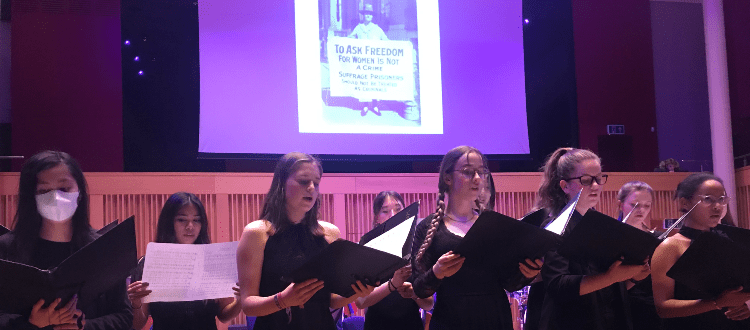 International Women's Day Music and Talks
In celebration of International Women's Day, our pupils put on a fascinating evening of music and talks.

The construction of the programme and even the idea itself was entirely pupil driven; together the pupils matched their talks on ideas worth sharing with music that resonates. The evening started with a rousing March of the Women performed by Choralia, followed by music interspersed with talks. The audience enjoyed hearing about the Tiananmen Square incident, the fate of our universe and whether we should be afraid of death.

A spine-tingling world premiere written and conducted by current pupil Rocket Brooks, a boundary-breaking moment during the Marimba Concerto performed by Juffy Zhu and an emotive performance of early female composer Florence Price's work admirably led by Vivian Kao rounded off a truly spectacular evening.

Everyone enjoyed this collaborative event between Music and Academics; let's hope it is the first of many!