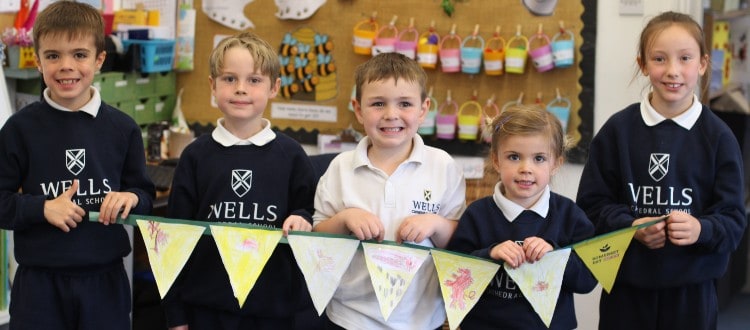 Somerset Day Celebrations
Across the School, we celebrated 
Somerset Day
 on Wednesday 11th May. We were proud to promote the official day of our beautiful home county and had a wonderful time celebrating our heritage with bunting, craft projects and Somerset-inspired food.
The School community got involved in a number of ways, with our fabulous caretaking team putting up flags and bunting across the site and our Pre-Prep children designing flags and bunting of their own. This was followed by a special Somerset taste test during which the children tried different Somerset cheeses and a range of apple juices before voting for their favourites. Naturally, Cheddar cheese was the winner! Our brilliant catering team cooked up a delicious lunch for the School community, featuring local pork, Somerset cheddar quiche, classic ploughman's lunch and traditional Somerset apple cake. It was thoroughly enjoyed by all! Inspired by their lunch, the children baked their own Somerset apple cake and created recipes inspired by local Somerset produce.
Thank you to everyone who helped to make the day extra special. We are so lucky to be nestled in the historic city of Wells at home in Somerset.