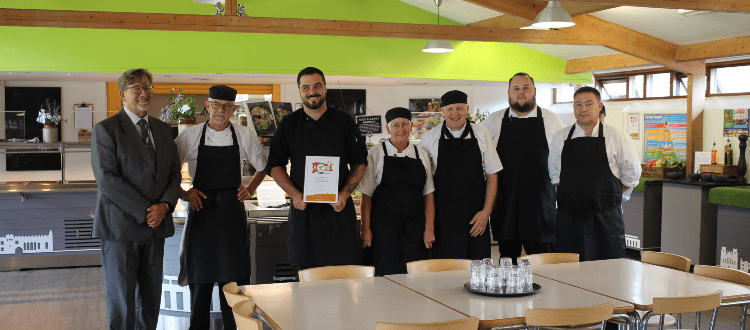 Food For Life Served Here
We're very pleased to announce that our Food for Life Served Here (FFLSH) award has been renewed.
To meet the FFLSH standards, which have been created with public health and the UN's Sustainable Development goals in mind, the School is delivering more sustainable catering made from fresh, local, honest ingredients. Our food is served ethically and responsibly and we are proud to have a long-standing relationship with our local suppliers. All food is freshly prepared and cooked each day, the meat and poultry can be traced back to British farms, and we only use Red Tractor certified beef, pork, lamb and poultry. Our milk and cream is also 100% Red Tractor, plus our eggs have the British Lion mark. We use as many British fruits and vegetables as possible and our fresh fish supplier works closely with the Marine Stewardship Council (MSC) to ensure sustainable fishing.
Alongside this, we are proudly on the Talk Education shortlist for the 'Innovation in nutrition or food' award.
Catering Manager Trevor Phillips said; "
The recent successes of the catering team are testament to their hard work and dedication to provide Wells pupils with healthy, balanced meals, and it is wonderful to see this reflected in such prestigious acknowledgements. I know that everyone in the Wells community will feel assured to know that everything we serve in our dining hall is carefully planned to have a minimal effect on the environment and a maximal effect on our pupils' health; we really strive to provide top quality meals we can be proud of.
"
We'd like to extend both our congratulations and our thanks to the catering team who truly go above and beyond. The renewed certificate will be proudly displayed in the dining hall.