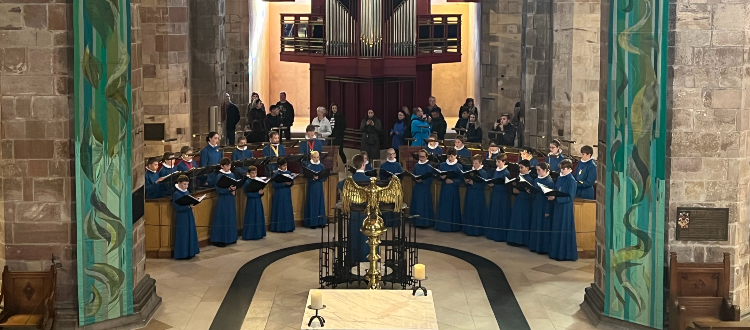 Wells Cathedral Choristers excel in Edinburgh
The Choristers of Wells Cathedral have just returned from a musically triumphant tour to Edinburgh.
Their first tour since a visit to The Netherlands in 2019, the 28 children aged from 9-15 had a fabulous time in Scotland's historic capital.
St Giles' Cathedral was the first stop, with the Choristers giving a Saturday lunchtime concert to the Cathedral packed with locals and tourists. It was practically standing-room only, with almost all seats taken and the sides of the building filled with people who had been exploring the architecture stopping still to watch and listen. The programme followed a musical journey through the church's year, beginning, with Hildegard von Bingen's
O sapientia
and Stanford's
Song of Wisdom
framing the selection. The children's voices soared through the beautiful building.
The Choristers then sang the Sunday Eucharist service at St Mary's Episcopal Cathedral, which was co-designed by George Gilbert Scott (designer of the asylum hospital at the Horringtons, near Wells). After the service, the congregation thanked them with a stirring round of applause.
There was a time for some fun too, including a visit to Edinburgh Castle, the Dynamic Earth centre, a Harry Potter tour, and crazy golf amongst animatronic dinosaurs. Before heading off to Edinburgh the Choristers worked hard to raise funds for their trip. As well as giving a concert in Wells Cathedral, each Chorister was given £20 with a challenge to turn it into as much money as they could over the summer holidays. The fabulously enterprising ideas included triathlons, a lemonade stand, gardening, making and raffling teddy bears dressed as Choristers, a car-boot sale, selling unwanted items online, an ice cream stand, splat the rat, taking on extra chores at home, and busking with their musical instruments!
The Choristers sang beautifully and, in the busy cultural tourist spot of Edinburgh were brilliant ambassadors for Wells Cathedral, Wells Cathedral School, and the city of Wells.