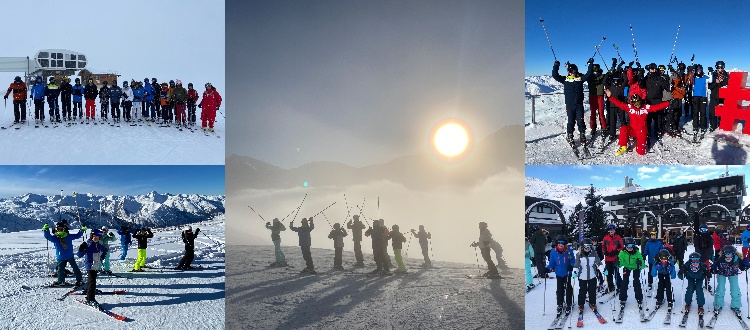 Pupils enjoyed a ski trip to Les Menuires, France, over the Christmas break.

Setting off bright and early from Wells at 5am on the 10th of December, the group flew from Bristol airport and were delighted by the glistening snow as their coach climbed the mountain towards the resort. After a tour of the complex and some fun in the snow, pupils collected their ski kit in the evening in preparation for the week ahead. It cannot be described as a relaxing evening however as once they had skis in hand, they sat down to the thrilling FIFA World Cup quarter-final between England and France!

Waking up to a winter wonderland, pupils ate a hearty breakfast and headed to the slopes to meet their instructors and split into groups of approximate age and ability before enjoying several days of skiing. The evenings saw Years 7 and 8 taking part in their very own "Winter Olympics" involving relay events in the snow, plus there was a film night, sports in the on-site centre, a quiz and karaoke. When the pupils weren't skiing or taking part in arranged activities they enjoyed shopping at the resort's many outlets, picking up lots of goodies and treating themselves to French chocolate and sweets.

Mr Padgett, Head of Science, said; "Our Senior School ski trip was a huge success with 68 pupils from Years 7 to the Lower Sixth enjoying a fabulous week in the snow. We were lucky to have fantastic conditions ranging from -15°c and sunny to days of powdery snow. Everyone worked hard with their instructors to improve their ability, and it was clear from the smiles on their faces that they enjoyed every moment (except, perhaps, the sound of some of the karaoke)! I was very impressed with the way the group conducted themselves; their behaviour was a credit to the School. We look forward to hitting the slopes again next year."

Thank you to Mr Padgett for his considerable time and effort in organising the trip, and to Mr and Mrs Ashton, Mr and Mrs Dine, Miss Tibbs, Mr Barnard, Mr Harvey and Mr Mayes for helping to ensure that our pupils had a safe, enjoyable time.