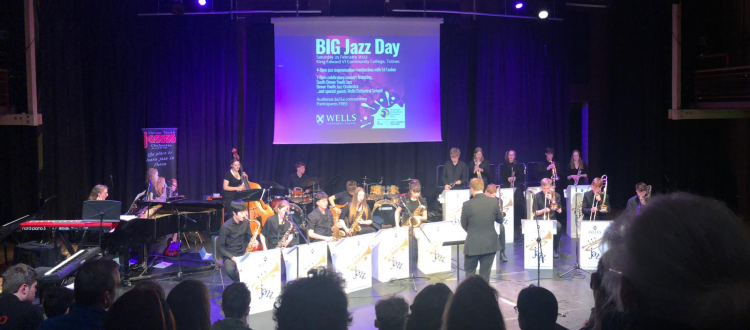 On Saturday 25th February, Devon & Torbay Music Education Hubs hosted a 'BIG Jazz Day' at King Edward IV Community College in Totnes with the Wells Cathedral School Jazz Orchestra as special guests.

Mr Leaker, Coordinator of Jazz & Popular Music Studies, led a workshop with over 60 young musicians from Devon Youth Jazz Orchestra (DYJO) and South Devon Youth Jazz focussing on rhythm, pulse and creativity in improvisation. There was playing, singing and dancing from all participants! Wells Jazz Orchestra and DYJO 1 shared an evening concert that was a truly joyful sharing of music and afterwards the young musicians had a chance to socialise and share ideas.

This event follows a pre-covid visit to Wells from DYJO and we are already looking forward to our next collaboration!