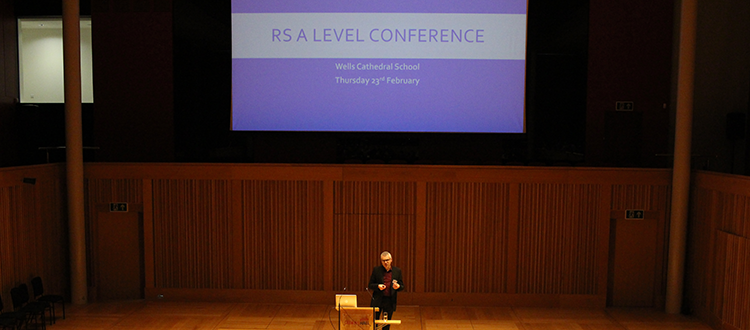 Religion, Philosophy and Ethics A level conference
On Thursday 23rd February, the Religion, Philosophy and Ethics department hosted its first South West A level conference in Cedars Hall.

250 pupils and 37 teachers from 17 schools across different sectors attended, with three more schools joining online. Chris Eyre, Principal Examiner, really challenged the pupils to look carefully at arguments for and against the existence of God, question whether there is any such thing as right and wrong, and then ended the day with a session on whether it is possible to be a feminist and a Christian.

Mr Poxon, Head of Religion, Philosophy and Ethics, explained why the School chose to organise the conference; "We noticed a lack of provision in the South West and felt that Cedars Hall was the perfect venue to host a conference to help hundreds of A level pupils with their exams. A lot of work went into making the day happen, but we're so pleased with how it all came together and hope we can do more to support both pupils and subject teachers going forward."

It was described by one attendee as, "a resounding success from our perspective!", who added, "Everything felt very smooth and seamless, excellent planning and we were all very jealous of wonderful facilities!"

Another attendee said, "The students found it very useful and reassuring at the same time, as they were familiar with the topics Chris discussed, but his presentations helped them to understand the topics more fully. It was a very well-balanced day".

One attendee commented, "The pupils thoroughly enjoyed themselves and have benefited greatly from the experience. It really was a brilliant day."

Magnificent engagement from the pupils and teachers meant that the day was incredibly worthwhile, with many teachers asking if the conference could happen again next year. Watch this space!