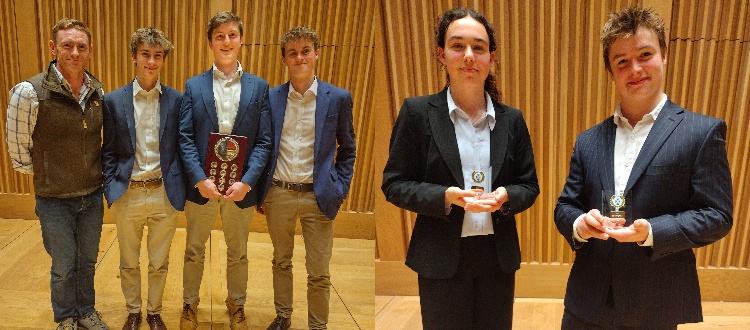 Inter House public speaking competition
All Houses other than Ritchie, whose members competed in legacy Houses, took part in a highly entertaining Inter House public speaking competition on Saturday 18th March.

Boarders and some keen day pupils packed into Cedars Hall to hear a range of speeches on subjects including the benefits of boarding, capital punishment, the value of the elderly to society, taxing the rich and animal testing. We also heard about the links between Harry Potter and the Christian story.

The most unusual speech was, without a doubt, delivered by Freddie Jackson (Lower Sixth) of Shrewsbury House on the intriguing subject, 'What's the largest animal Charlie Temmink (Lower Sixth) could beat in a fight'?

Towards the end of the evening, and in between speeches, a good number of pupils spoke passionately about our individual and global commitment to the cause of anti-racism. Poems, reflections, experiences and views were relayed in a way that moved and spoke to everyone in the Hall.

The competitive element of the evening was astutely judged by History teacher Mr Broderick, parent of three Old Wellensians and local Councillor Mrs Deborah Orret, and Mr Ben Taylor our Independent Listener. Let's not forget our thanks to Mrs Murdoch for keeping our speakers to their allotted time limits!

The judges decided the best House award should go to Shrewsbury House overall (Freddie Jackson, Charlie Temmink and James Juggins, Lower Sixth) with Plumptre and Cedars closely behind. The best speaker award was presented to Abigail Beech (Lower Sixth) of Plumptre House for her view that 'The elderly are undervalued in British Society', the best Chairperson award went to Oliver Warren (Lower Sixth, Cedars House) and the best Questioner award to Alexei James-Cudworth (Upper Sixth, De Salis).

Thank you to everyone who took part – we look forward to next year!