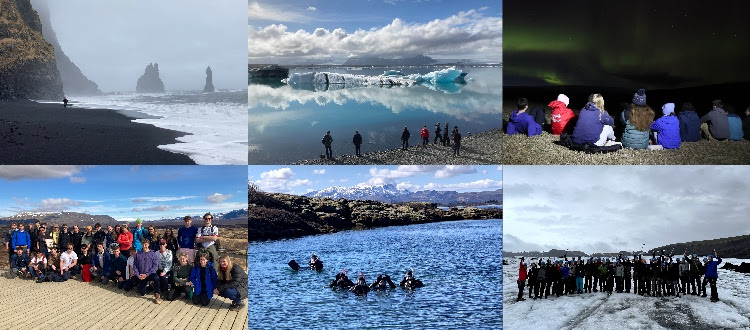 Geology and Geography field trip to Iceland
The tenth Iceland field trip enabled the study of aspects of Geography and Geology including plate tectonics, volcanoes, geothermal hot springs and geysers, waterfalls, glacial processes, geotourism and settlements.

The group of 33 Geographers and Geologists packed in a huge amount in the five days, visiting sites across the south of Iceland familiar not only from text books and TV news, but also many which featured in films such as Batman Begins, Die Another Day, Tomb Raider, Luther, Star Wars and Game of Thrones.

They enjoyed the spectacular scenery in fine weather, making the most of the opportunity to consolidate ideas learned in the classroom (once they had overcome tiredness from an 6a.m. outward flight!)

They were lucky enough to see the aurora borealis, snorkel in the crystal clear water in the crack formed between tectonic plates, watch icebergs drifting out to sea and washing back up onto a black sand beach, see real molten lava in the 'Lava Show', hike on a glacier and even try the Icelandic delicacy 'Hakarl' (rotten shark meat).