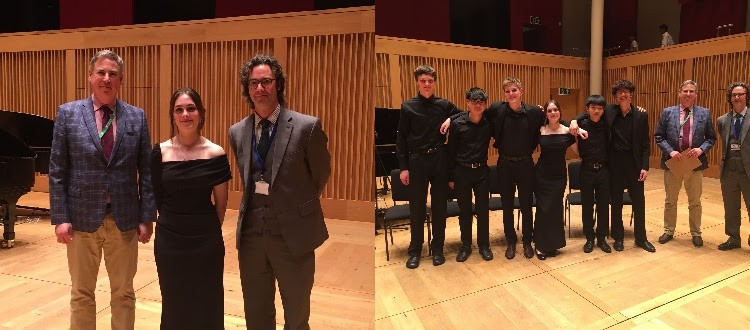 Concerto Competition finale
The Concerto Competition Finale saw six outstanding performances from Lily Owens (flute, Year 11), James Mayhew (piano), Kamil Kulich (piano), Jeremy Tan (violin), Sean Foong (double bass) and Harold Lee (oboe, Lower Sixth).

The competition was adjudicated by Jeffrey Sharkey, Principal of the Royal Scottish Conservatoire, and he awarded the prize (performing the concerto with the School Symphony Orchestra next summer) to Lily. He praised her communication, storytelling, listening and poise.

Lily will play the Flute Concerto by Huw Watkins (who has been in touch to offer his congratulations and support ahead of the concert next year!)

Mr Leaker, Co-ordinator of Woodwind, commented; "I am absolutely delighted for Lily. She is such a hard working and talented young musician and this win is thoroughly deserved. Lily chose the Huw Watkins concerto herself and we are excited to hear it performed with the orchestra. Mr Watkins will hopefully be joining us for rehearsals next year which is an added bonus for both Lily and the orchestra!"

Thanks and congratulations to all of the competitors and also to our wonderful collaborative pianists, Emma Walker and Dominic Hansom on all the advice and skill they brought to make the concert so professional.

We look forward to hearing Lily's performance next summer.