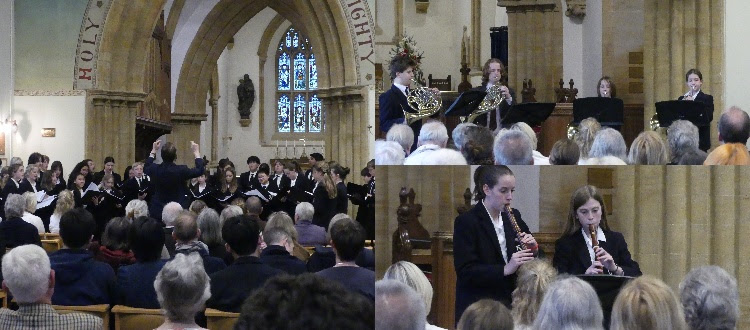 On Friday 12th May, 50 musicians from Years 7 to 9 travelled to St Peter and St Paul's Church in South Petherton to give a concert of choral works interspersed with solo and ensemble numbers.

Cambiata, conducted by Mr Ashley, gave stirring performances of Steal Away and Myfanwy whilst Upper Voices, directed by Mr Brink, performed Chilcott's Like a Singing Bird and The Cup Song, with auxiliary percussion (cups on floor!) performed by Willow Williams and Carmen Gutierrez Sereno (Year 8). The full choir sang Didn't my Lord deliver Daniel, an excerpt from Ellington's Sacred Concert, and Chilcott's God So Loved The World, with a magnificent solo by Clemmie Luck (Year 8).

We were treated to wonderful performances by Hornets (thanks to Daniel Whitehead of the Lower Sixth for playing and directing), a recorder duet and solos by Harrison Ashurst, Cole Craggs, George Grandison Jewitt and Isabella Jordan (Year 8), Susannah Hunt, Maria Konstantinou and Lucille Raynal (Year 9).

Huge thanks to Mr Lloyd, Ms Rigby and Mr Lauener for accompanying musically and logistically!