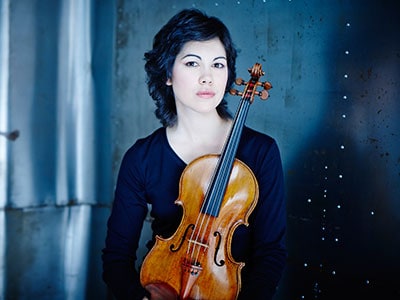 Project Description
Isabel Villanueva, Viola
'I was so moved and astonished by the incredibly beautiful playing (…) You are praying in your playing, like I pray in my compositions. I am so sincerely thankful to you'
Betty Olivero, composer
Awarded the Spanish National Radio Culture Prize 2015, Isabel Villanueva (1988), is one of the best violists of the new generation. She is valued for her expression and sensibility as well as for her passion and commitment to promote the viola as an instrument with its own voice. She has appeared as a soloist with the Radio Television Spanish Symphony Orchestra, Moscow Soloists, Estonian National Symphony Orchestra, New Russia State Symphony Orchestra, Orquestra Nacional Clàssica d'Andorra, Orquesta Sinfónica de Castilla y León, Orquesta Filarmónica de Málaga, Glasperlenspiel Sinfonietta, performing a wide range of viola concertos from the baroque period until contemporary works in prestigious venues including the Grand Hall of St. Petersburg Philharmonic, Palau de la Música Catalana in Barcelona, Teatro Monumental de Madrid or the Estonia Concert Hall in Tallin.
As a recitalist, Isabel has performed in international venues and festivals including Santander Festival, Bath Music Festival, Pablo Casals Festival in Prades, LegeArtis Festival in Austria, Slovenian Philharmonic Hall in Ljubljana, Schubertiade RTS, Royal Court Theatre in Copenhagen, Roudaki Hall in Tehran (becoming in 2013 the first foreign violist to perform solo recitals in Iran) and Wigmore Hall in London. Villanueva has a strong interest in expanding music for viola. Premieres and collaborations include Gubaidulina, Olivero, Sotelo, Schnyder, Marco, Zárate, Cervelló and Khayam. Highlights include the world premiere of José Zárate Viola Concerto at Auditorio de Zaragoza (2010), the Concerto for two violas Two Paths by Sofia Gubaidulina at her 80th anniversary gala concert at the Grand Hall of St. Petersburg Philharmonic (2012), Betty Olivero's 'Neharót, Neharót' for viola and orchestra at the MustonenFest closing gala at Estonia Concert Hall (2014) and Mauricio Sotelo 'Blanca Luz de Azahar' for viola and piano in a recital at Auditorio Nacional de Madrid in the prestigious season 'Liceo de cámara' CNDM (2016).
Her concerts have been broadcasted live for RTVE Spain, Catalunya Musica, RTV Slovenia, Estonia Klassika Raadio, Swiss RTV and TV Russia 'Kultura'. She is winner of numerous prizes including Intercentres Competition in Madrid, Jeunesses Musicales of Spain, Mravinsky Competition in St. Petersburg, Beethoven Viola Competition in Czech Republic, Yuri Bashmet Viola Competition in Moscow. In 2014 she was awarded the 'Prix Albert Lullin' in Geneva to the most outstanding instrumentalist of the year.
In 2015 she was recognised institutionally by Marca España and named 'Global Ambassador of Spanish Talent' by Clear Channel. She is 'Cultural Ambassador' from Fondation Prim'Enfance in Switzerland. In the season 2016-2017 Isabel performed in Spain, France, Switzerland, Germany, Denmark, Lebanon; performing with Radio Television Spanish Symphony Orchestra under the baton of Michel Plasson (Walton), Orquestra Nacional d'Andorra (Hoffmeister and Rolla), Lebanon Philharmonic Orchestra in Beirut (World Premiere of Houtaf Khoury Viola Concerto No.3) Banda Municipal de Barcelone at L'Auditori (Frank Martin Ballade for viola and winds). She performed recitals at Auditorio Nacional in Madrid, Royal Theatre in Copenhage, Schubertíada in Vilabeltrán, Festival Musika-Música in Bilbao, Festival Lavaux Classic in Switzerland, Rottweil JazzFest, among others.
Chamber music collaborations include Prazak Quartet, Trío Arbós and Daniel Schnyder. Isabel studied with I.Sulyga, Y.Bashmet, L.Power, N.Imai and M.da Silva at Royal College of Music in London, Academia Musicale Chigiana in Siena and the Haute École de Musique in Geneva. Isabel Villanueva plays an Enrico Catenar viola (Turin, 1670) and uses Peter Infeld strings kindly sponsored by Thomastik-Infeld (Vienna).
Find out more.